Byculla riots: New initiatives for improved conditions for staff, prisoners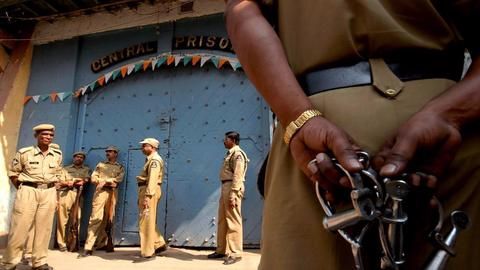 Last month, reports of a brutal assault at Mumbai's Byculla prison, where notorious murderer Indrani Mukerjea is lodged, shook the country.
Following the death of the inmate, prisoners rose in protest, went on a rampage and damaged property. Cases were filed against all 291 inmates.
The jail authorities now seem to have woken up. They are now counseling staff and improving infrastructure for prisoners.
In context
One month after Byculla: What are authorities doing?
Incident
The shocking death that triggered an uprising
An inmate was brutalized and raped. Manjula Shetye's postmortem report said her body had been bruised and lungs damaged.
According to witnesses, female guards held her down, forced a stick into her vagina and thrashed her. The torture was apparently because she had complained about inadequate food.
She then lay bleeding for hours till she lost consciousness, and died in the hospital.
Staff
Staff to be counselled on humane treatment of inmates
According to Bhushan Kumar Upadhyay, ADGP (Prisons), the incident wasn't a "failure of the prison system", but due to mistakes of some people. "We are taking preventive measures to prevent similar incidents," he said.
For one, staff is being counseled on how to deal with prisoners. They are being taught about rights of inmates and how they are to be safeguarded.
Love India news?
Stay updated with the latest happenings.
Notify Me
Infrastructure
Focus also on more barracks to check overcrowding
Infrastructure is also being improved to check overcrowding, which often leads to friction between inmates.
More barracks will be constructed across jails: two at Mumbai's Arthur Road, four at Pune's Yerwada, seven at Aurangabad and four at Solapur.
Four new prisons are also being considered in Mumbai and Pune.
According to NCB, 1,400 Indian jails house 420,000 inmates against a maximum capacity of 366,781.
Conclusion
But will these initiatives be enough for the "hellhole"?
According to former Byculla prisoners, thrashings by staff aren't uncommon.
Resources are scarce: inmates get one bar of soap, there's hardly enough water or proper food, toilets are unclean, and bribery is rampant.
Simply taking care of overcrowding won't be enough. One priority is hiring: nearly one-third of positions for prison guards and officers are vacant.
Meanwhile, six guards face action over Shetye's death.