Jethmalani resigns as Kejriwal's advocate, seeks Rs. 2 crore dues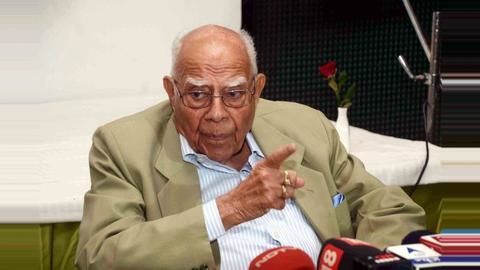 Ram Jethmalani finally called it quits as Delhi CM Arvind Kejriwal's legal counsel in the civil and criminal defamation cases filed by Union Finance Minister Arun Jaitley against him.
Jethmalani in a written letter, accused Kejriwal of using offensive language against Jaitley during private discussions on the case.
He further asked Kejriwal to settle his fees amounting to more than Rs. 2 crore.
In context
Jethmalani calls it quits as Kejriwal's counsel
Context
Jaitley files defamation cases against Kejriwal
Five AAP leaders, including Delhi CM Kejriwal had alleged that Jaitley was involved in money laundering during his tenure as chairman of DDCA.
Thereby, Arun Jaitley filed a civil defamation suit seeking Rs. 10 crore damages from Kejriwal.
Kejriwal hired Jethmalani as his counsel wherein during a cross-examination of the Minister he used an objectionable word to which Jaitley filed another case.
Jethmalani alleges
More offensive language was used by Kejriwal for Jaitley: Jethmalani
The senior lawyer wrote a letter to the CM, accusing him of using even more abusive language against Jaitley during private discussions on the case, after Kejriwal denied instructing Jethmalani to use derogatory language against Jaitley during court proceedings on May 17.
Things went into a tizzy after the lawyer has said that he used the objectionable word against Jaitley on Kejriwal's direction.
Love India news?
Stay updated with the latest happenings.
Notify Me
Kejriwal retraces
Never asked Jethmalani to use objectionable words: Kejriwal
Kejriwal on the other hand refuted the charges saying that it was "inconceivable" of him to even think that he would instruct the senior counsel to use such objectionable words.
He further added saying that neither he nor the counsel (Anupam Srivastava) briefing Jethmalani gave instructions to the senior counsel to use the objectionable words.
Jethmalani's fees paid partially by Delhi government
Earlier this February, the Delhi government had cleared a payment of Rs. 3.5 crore to Jethmalani, which included Rs. 1 crore as retainer and Rs. 22 lakh as fee for his each appearance in court.
The letter
Letters by Kejriwal stated the "use of objectionable words"
According to sources, the letter written by Jethmalani to Kejriwal as well as the letter written by Kejriwal to him stated a lot about Jaitley and the use of objectionable words.
It is also being said that Jethmalani had informed in the letter to Kejriwal about how PM, impressed by his relentless fight against black money, had asked him to join BJP in 2010.
23 Aug 2017
Defamation case: HC notice to Kejriwal on 'false affidavit'
Delhi HC has asked Arvind Kejriwal to explain why he allegedly filed a false affidavit in a defamation case by Arun Jaitley.
Jaitley alleged lawyer Ram Jethmalani had used "abusive words" against him on Kejriwal's instructions; Kejriwal denied the claims.
Jaitley now says he has a letter from Jethmalani, who recently quit as Kejriwal's lawyer, where he claimed he abused him on Kejriwal's instructions.