Justice Dipak Misra sworn in as 45th Chief Justice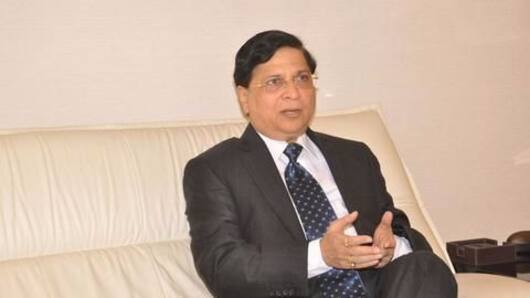 Justice Dipak Misra was sworn in as the 45th Chief Justice of India this morning at the Rashtrapati Bhawan.
64-year-old Misra replaces JS Khehar. His term will end on October 2, 2018.
Misra was part of the bench that mandated playing of the national anthem in movie halls. Once he wrote a 192-word opening sentence in a judgement!
Find out more about him here.
In context
Justice Dipak Misra as next CJI
29 Aug 2017
Justice Dipak Misra the first CJI to have 'Z'-category security
Justice Dipak Misra, who took over his new role as CJI yesterday, is the first CJI to have 'Z'-category security cover.
In 2015, a bench headed by him had refused commutation of death penalty for Yakum Memon, after which he received a threat letter. He was then provided security cover.
He is also the only SC judge to use a bullet-proof car and police escort.
Notable cases
Notable judgements by Dipak Misra
Justice Misra was part of the bench which ordered playing of the National Anthem at the start of a film in movie theatres.
He also upheld the death sentence awarded to the four convicts of the Nirbhaya rape case this year.
The senior judge also led the bench that rejected the 1993 Mumbai serial blasts convict Yakub Memon's appeal against execution.
Love India news?
Stay updated with the latest happenings.
Notify Me
SC judgement: 192-word longest sentence pronounced by Justice Misra
SC Justice Dipak Misra wrote a 192-word opening sentence in an order in the case of Priyanka Srivastava and Anr vs State of UP and Ors in 2015, to say that the case before him was a frivolous litigation filed to harass the opposing party.
How it works?
How SC chooses its CJI?
Let's see how a CJI is selected.
The CJI is usually appointed by the outgoing CJI. The outgoing CJI selects the most senior then-sitting SC judge.
However, seniority isn't determined by age but by date a judge was appointed to the Supreme Court.