Tamil Nadu: Copy of Gita near Kalam's statue causes controversy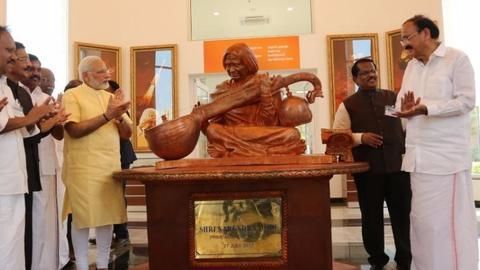 A couple of days after a memorial of Late Indian President APJ Abdul Kalam was inaugurated in his native village of Peikarambu, a controversy has erupted over an engraved copy of the Bhagavad Gita near his statue.
Different parties of Tamil Nadu have alleged attempts to "communalize" India's Missile Man.
Now his relatives have left a Quran and a Bible near the statue too.
In context
Controversial engraved Gita near Kalam's memorial statue
Details
The controversy began with MK Stalin
The controversy began when DMK leader MK Stalin raised it at a public function; it allegedly amounted to imposing communalism. He asked why the Tirukkural wasn't placed there.
MDMK general secretary Vaiko, VCK president Thol Thirumavalavan and SDPI state president KKSM Dhehlan Baqavi joined Stalin.
Apart from books and photos related to Kalam, the memorial also has replicas of rockets he worked on.
To resolve the matter, kin bring in Quran, Bible, Tirukkural
"An unnecessary controversy was raised. DRDO officials worked tirelessly for the memorial and hadn't sculpted the Gita near the statue with any (ill) intention," Kalam's kin Sheik Dawood and Salim said. They will also place a copy of the Tirukkural there to avoid further controversy.