'Legalizing marijuana reduces drug abuse': Is Maneka Gandhi right?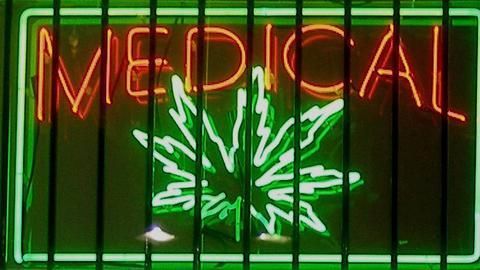 Yesterday, Union Minister Maneka Gandhi recommended legalizing marijuana for medical use, "especially as it serves a purpose in cancer".
She made the suggestion at a meeting of ministers chaired by Home Minister Rajnath Singh.
According to her, in countries that had legalized marijuana, it had "resulted in less drug abuse".
But has it? Here's a list of how legalization has affected these countries.
In context
Marijuana legalization: Where can you smoke up freely?
First things first: What is medical marijuana?
Medical marijuana refers to cannabis when prescribed for purposes of medical treatment. Marijuana is known to cure multiple ailments like glaucoma, muscle spasms caused by multiple sclerosis, epileptic seizures, and preventing cancer from spreading. Uruguay was the first country to completely legalize marijuana in 2013.
Countries
The first country to legalize marijuana and its legacy
Uruguay was the first country to completely legalize marijuana in 2013. However, the law has gone into full effect only this month.
In Netherlands, "soft" drugs like marijuana are effectively decriminalized. Reported deaths due to drug use are one of the lowest in the European Union.
Marijuana is either partially or completely legal in Croatia, France, Romania, Finland, Chile, Columbia and Jamaica.
Love India news?
Stay updated with the latest happenings.
Notify Me
Europe
Portugal and Czech Republic present extreme cases
After Portugal partially decriminalized marijuana, the first European country to do so, drug use among teens declined and so did HIV infection via contaminated needles.
It also gave addicts space to ask for help: the number of people seeking treatment doubled.
Meanwhile, cannabis use in the Czech Republic, where medical marijuana is legal but very strictly controlled, is one of the highest in Europe.
Recent
The latest entrants to the list
Argentina became the latest country to legalize marijuana in March. Argentina officially provides needy patients marijuana for free.
Canada is also exploring options; it reportedly plans to implement its proposed marijuana policy by July next year, but a shortage in supply might delay plans.
Australia too joined the list recently: last August, it passed the Narcotic Drugs Act.
What's the status in India?
In India, cannabis production and consumption is governed by the Narcotic Drugs and Psychotropic Substances Act, 1985. Consumption can lead to jail for six months while production can get you in for up to 10 years. However, cannabis dominates India's illegal drug market.
Lawmakers
Maneka not the first politician to support marijuana legalization
Maneka isn't the first politician to vouch for marijuana legalization. In 2015, BJD's Tathagata Satpathy won youths' hearts when he sought a change in cannabis law (he call the ban "elitist").
Last November, MP and former AAP member Dharamvir Gandhi introduced a private bill to permit the "legitimize cultivation, production, possession, manufacture, sale, transport, and inter-state export, import, use and consumption of soft drugs".
So is legalization a good idea for India?
According to studies, the answer is yes. Drug abuse has generally been observed to fall under government regulation. However, to achieve optimum results, it is important that aws are implemented efficiently, particularly in a country like India where most regulations are only seen in rulebooks.