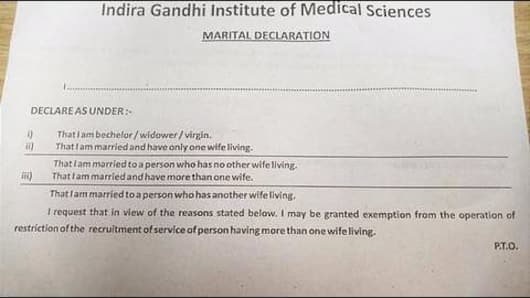 "Are you a virgin?" Asks Bihar's IGIMS in employment form
It is not uncommon for employers to ask applicants questions about their education, experience, and a few personal details.
But when the questions get too personal, the situation turns really awkward and embarrassing.
In a rather bizarre incident, Patna's Indira Gandhi Institute of Medical Sciences (IGIMS) wanted its candidates to "declare" whether they are virgins or not in the employment form.
Know more!
Weird questions asked by the medical institute
IGIMS is an autonomous institute located in Patna's Sheikhpura.
It had a list of very odd and embarrassing questions in the 'Marital Declaration' section of its employment form.
It wanted to know if the applicants were bachelors, widowers, or virgins.
It asked the candidates to declare if they are "married" and whether they have "only one wife living," or "more than one wife living."
Love India news?
Stay updated with the latest happenings.
Yes, notify me
There are so many sexist questions!
It looks like either IGIMS didn't include questions for women in the form or is just not looking for female employees (and forgot to specify it)!
The employment form is as sexist as it gets. It only has options like bachelor/widower and not bachelorette/widow.
However, it does mention 'virgin', which we can only assume is for women (who asks men to declare their virginity?).
IGIMS's Medical superintendent Dr. Manish Mandal's response
Mandal said IGIMS follows the same protocol followed by New Delhi's AIIMS and stated: "Virgin doesn't have to do with virginity, but marital status. The rules are made by the government and the Constitution. If they change the word, then we will change it too."