EPW row: Who's at fault? Paranjoy Guha Thakurta issues statement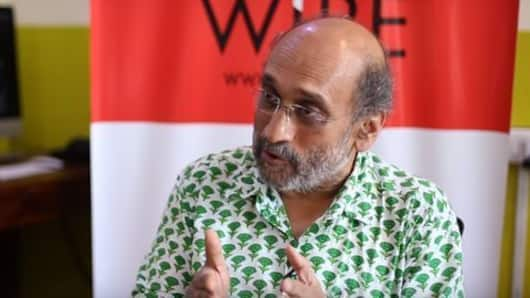 In context
The EPW-Paranjoy Guha Thakurta row explained
Article
What was written in the controversial article in EPW?
The article published on June 24 in the Economic and Political Weekly talked about how in 2016, the government amended SEZ rules to let Adani Power Limited claim refunds worth Rs. 500cr on customs-duty.
Moreover, APL hadn't paid duty of Rs. 1,000cr on raw materials that was due March'15.
Essentially, the government was allowing APL to claim refund on duty it hadn't even paid.
Meeting
The board meeting in which Thakurta was allegedly threatened
On July 18, Sameeksha Trust, EPW publisher, called a board-meeting: Adani Group's lawyer had sent a letter demanding the article be removed.
According to Thakurta, the Trust accused him of 'breach of trust', said a co-editor would be appointed, and proposed 'guidelines' regarding how editorial would function.
Then they said, "Don't leave this room until we've ascertained that the article has been pulled down."
Thakurta's resignation was immediate
By the end of the meeting, Thakurta had resigned, he claimed. "The last 15 months that I have held this position have been a very rewarding period. I (now) look forward to spending more time in Delhi with my family," he said.
Love India news?
Stay updated with the latest happenings.
Notify Me
Barbs
The blame game that followed
In the next few days, Sameeksha accused Thakurta of "unilaterally" initiating legal proceedings in response to Adani Group's letter.
Thakurta apologized for the "procedural lapse", but blamed Sameeksha for not sharing the "full picture".
Then EPW staff wrote a letter to the trustees: it said Thakurta 'undermine(d) the review process' of articles, promised 'higher payments to certain authors' and made 'inappropriate, sexual/sexist comments'.
03 Aug 2017
EPW row: Who's at fault? Paranjoy Guha Thakurta issues statement
The new-found tendency of corporate houses to threaten critical reporting claimed its first victim in recent times: Economic and Political Weekly editor Paranjoy Guha Thakurta resigned after being asked to remove an article on the Adani Group.
Since then, there have been arguments and counter-arguments on a growing culture insidious to press freedom.
Now Thakurta has issued a statement on the matter.
Statement
Thakurta addresses allegations by former colleagues
Thakurta said he had shortened the review process in "barely a handful of articles out of the hundreds" published during his 15-month tenure.
He said he had proposed payments of Rs. 30,000 and Rs. 20,000 to Subir Ghosh and Nihar Gokhale for their extensively-researched investigative pieces that were specially assigned.
He added EPW had received a generous grant recently for "corporate investigations".
Conclusion
Thakurta accuses Sameeksha of blocking access to his email
He also addressed the allegations of sexual comments, accepting he had "inadvertently" done so once and immediately apologized.
Though he had the conversation on his email, his access had allegedly been blocked immediately after his resignation despite assurances he would be allowed access for a few weeks.
Will Sameeksha and Thakurta's former colleagues respond to his statement? It remains to be seen.