To protest soaring vegetable prices, UP Congress launches 'tomato bank'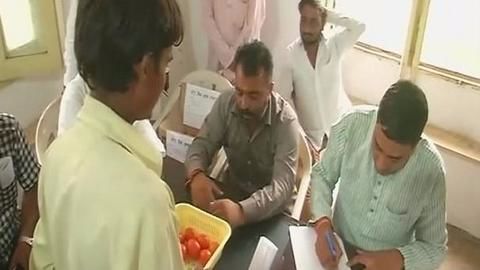 Frustrated over rising prices of vegetable? Worry not, for Congress' 'State bank of tomato' is here.
The unique form of protest by UP Congress provides loans for buying tomatoes, along with lucrative interest rates on deposits and locker facility.
The scheme's a hit: about 18 buyers have already lined up on the bank's second day at the Youth Congress office in Lucknow's Mall Avenue.
In context
'State bank of tomato' offers loans for vegetables
Background
Why did the need for a 'tomato bank' come about?
Tomato prices have soared across India in the last month due to a shortage in supply. Though this is an annual occurrence, this year has been worse than usual.
In some places including Punjab and Gurgaon, prices rocketed to as high as Rs. 80-100/kg.
As a result, people have had to cut down on the ingredient that is regularly used in many homes.
Schemes
Schemes selling like wild fire
The 'bank' has set up good business in just two days. According to former party spokesperson Anshu Awasthi, also the bank's 'chief manager', they have already gotten 11kg of tomatoes as deposits.
About 1.5kg of tomatoes have been loaned out, which the buyer will pay back in installments of Rs. 10.
Like any other bank, the 'State bank of tomato' operates from 10am-5pm.
Love India news?
Stay updated with the latest happenings.
Notify Me
Overwhelming response has led to a second branch!
The 'bank' has many interesting schemes on offer, like doubling of tomatoes deposited, loans of up to 80% for buying vegetables, and more. The response has been so overwhelming that apparently, the Congress has started another 'branch' at Aliganj.
Onions
After tomatoes, is it onions next?
Two days ago, the first reports of tomato prices plummeting came in from Bengaluru and Mysuru, where it dropped to Rs. 50 and Rs. 25 respectively.
But is it onions next? On August 3, at Maharashtra's Lasalgaon wholesale market, onions were selling at Rs. 23/kg- up from the previous day's Rs. 12.70/kg.
It crossed Rs. 10/kg for the first time last month after February'16.