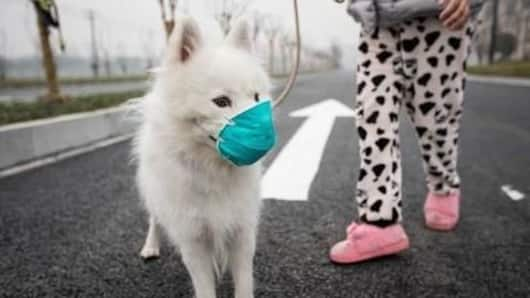 How you can protect your pet from pollution
Your pet deserves the best.
However, quite like ourselves, our non-human friends also suffer the wrath of all the environmental degradation we have caused.
Today, air pollution is one of the major causes of infections and disease, such as respiratory problems, among humans as well as our pets.
Here are six simple ways by which you can protect yourself and your pet from pollution.
Tips: Try staying indoors; Clean house frequently
Stay indoors: To stay safest, it is advisable to avoid heading out, if it's not inevitable. Give your doggy or cat a break from outdoor play.
Cleaning: Unlike you, your pets live in close contact with the ground, and are thus increasingly exposed to dust, which they often end up licking/consuming. Hence, make sure to vacuum and dust your home frequently to reduce risk.
Tips: Use pollution masks; Install air-purifiers at home
Mask: Get yourself and your pet disposable respiratory masks and use one whenever the two of you head out. This will considerably cut down the amount of harmful particles you and your pet take in.
Air purifiers: Install good quality air-purifiers at your home to protect yourself and your dog/cat from the harmful effects of air pollution, when you are indoors.
Love Lifestyle news?
Stay updated with the latest happenings.
Yes, notify me
Tips: Keep your pet hydrated; Say no to smoking
Hydration: Make sure to keep yourself as well as your mate aptly hydrated. This will help flush out excessive toxins and impurities from the body, thus reducing chances of infection and disease.
No smoking: Firstly, try and quit smoking. However, if you can't let go of it completely, just make sure to light it at a good distance from your pet.