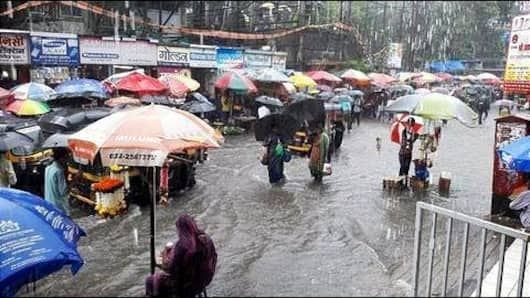 Heavy rains in Mumbai: Five dead; extremely heavy rains predicted
Mumbai is on high alert as torrential rains continue to batter the city.
On 29 August, the city recorded a whopping 298mm rainfall - the highest in a single day in August since 1997.
Five people died in separate incidents since yesterday; four were washed away while another died after a power sub-station's wall collapsed onto his house.
Tap in for more Mumbai news!
Mumbai at a standstill: Rains hit transport services
As Mumbai came to a stop after the incessant rains flooded and sank the sub-urban railway network; however, the city's BEST buses came to the rescue of stranded people.
Over 100 additional buses were arranged to transport people to their destinations.
Cab services like Uber and Ola have also announced special shuttle services.
Suburban central and western train services are slowly resuming operations.
#RainHosts #MumbaiCarPool trend on Twitter
As rains lashed Mumbai, several temples, gurudwaras, Ganeshotsav mandals offered help to stranded people by providing food, water, and shelter.
Many turned hosts, opening their homes and offering to share their cars to help fellow Mumbaikars.
While #RainHosts offered tea, snacks, towels, and Netflix at their places, #MumbaiCarPool hosts helped people on roads.
More information about such hosts can be accessed here: http://bit.ly/2wlMDjy
Love Mumbai news?
Stay updated with the latest happenings.
Yes, notify me
Rains cripple Mumbai airport; flights canceled, delayed
The strong winds and torrential rains pounding Mumbai have affected the flight operations at the city's International Airport.
Passengers complained of flights being delayed by hours; the airport reported many cancellations, ten lengthy go-arounds, and diversions due to visibility and landing issues.
Nearly all airlines reported delays due to low-visibility.
However, Mumbai International Airport Limited (MIAL) didn't shut down completely despite bad weather.
Mumbai's saviors: The black-and-yellow taxis
As all public transportation services in Mumbai were disrupted due to the heavy rains, lakhs of Mumbaikars were stranded on the roads looking for ways to reach their destinations.
While app-based cab services with high surcharges and crashed apps/websites couldn't do much, it was the city's very own black-and-yellow taxi drivers that saved people stuck on roads in times of trouble.
Mumbai: No dabbawala service in the city today
Mumbai's over 5,000 dabbawalas, who deliver 2,00,000 dabbas daily, have canceled their deliveries to office-goers today owing to the disruption of the suburban train services.
The tiffin delivery men who went out on their task yesterday returned only this morning; they were stranded all night at the railway stations.
They use the local trains to deliver lunchboxes; however, they would resume their services tomorrow.