Mumbai
SpiceJet Incident: Whistleblower writes to Aviation Ministry about potential hazard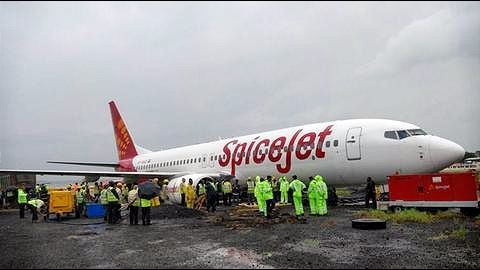 Following the SpiceJet flight skidding incident at Mumbai, Airports Authority of India's DGM (Aviation Safety), S Mangala, flagged off a potential hazard.
Right landing direction saved the SpiceJet aircraft, which would have hit the non-frangible Jet Blast Shield, bursting into flames, had it landed from the opposite direction.
There was no RESA (meant to stop overshooting aircraft) beyond the landing-strip on the opposite side.
In context:
SpiceJet aircraft skidding incident at Mumbai Airport
SpiceJet Aircraft

Flight overshoots while landing; skids off runway
On 19 September, a SpiceJet flight SG703 overshot the main runway at Mumbai's Chhatrapati Shivaji International Airport while landing due to slippery conditions during the incessant rains.
While all 183 passengers were safe, the aircraft remained stuck in the mud for nearly 24 hours.
The incident disrupted air traffic; primary runway operations were affected, leading to flight cancellations and diversions.
21 Sep 2017

SpiceJet Incident: Whistleblower writes to Aviation Ministry about potential hazard
Love Mumbai news?


Stay updated with the latest happenings.
Mangala's email to her authorities

Mangala wrote: "Please keep it in mind that if there is an accident of an aircraft with foreign passengers on board, the State of

India

/GOI, as a single entity, will be held accountable/liable in the

International Court of Justice

."
Authorities

Mangala has been repeatedly writing to authorities five years
Mangala has been writing to concerned authorities, including Directorate General of Civil Aviation, AAI Chairman, Air Traffic Controllers, and the airlines, that a SpiceJet-like accident could happen anytime.
The Mumbai airport runway doesn't have a breakable JBS that safely cracks upon impact from overshooting aircraft; instead, it has a hard-metal JBS that explodes upon collision.
The non-frangible JBS was installed despite Mangala's opposition.
Mumbai Airport official refutes Mangala's claims

Rubbishing Mangala's claims, a Mumbai airport official said everything at the airport complies with the specifications of the safety regulator at DGCA and AAI, He added, "The regulator, after careful examination and certification, gives the go-ahead for any development."