To prevent suicides, Maharashtra govt installs safety net at Mantralaya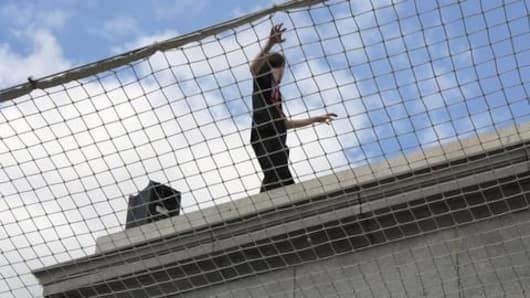 Days after the Mantralaya in Mumbai witnessed two suicides, the Maharashtra government has installed a safety net at the building's second floor-level to avoid further such incidents.
The net was installed just a week after a murder convict died after jumping off the fifth floor of the building. In another unrelated incident, a farmer consumed poison on the sixth floor of the building.
In context
Mumbai: Mantralaya installs safety net to prevent suicides
The suicides
The safety net was installed at the Mantralaya on Monday
The installation of the safety net was done on Monday, and the net is similar to the one that can usually be seen on high-rise buildings/malls.
According to reports, the state government has been trying to beef up security measures to prevent suicide attempts in and around the State Secretariat in South Mumbai.
The Mantralaya witnessed three separate suicide attempts last month.
Security measures
Many new security measure will be adopted by the Mantralaya
Due to the recent incidents, security measures have also been tightened at the building as the government plans to put restrictions on the entry of visitors without an appointment. They also plan to put up an administrative desk outside the building for people willing to submit letters.
A detailed report about the measures to be adopted will reportedly be made public next week.