Mumbai sports club illegally charging for using public ground?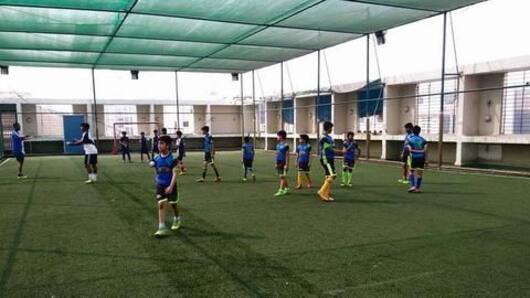 Did you know the open space of Mumbai's Goregaon Sports Club (GSC) in Malad (West) can be used for free and should be open to public the whole day?
However, the club authorities have been charging anything between Rs. 40,000 to Rs. 1 lakh per day for playing games.
This is a clear violation, according to a condition set by the civic body.
In context
Mumbai club charging illegally for Malad public ground?
Allegations
GSC allegedly charging for holding sports events in open space
The club received the open space from the state in 1998, along with permission to develop from BMC, albeit with some conditions.
One clause was that they will maintain the ground and keep it open for public all day long.
The club, however, is charging money from whoever wants to conduct sports activities on the ground, like schools, corporates and NGOs.
BMC
No board put up stating ground free for public: BMC
After a complaint by local activists last year, BMC officials visited the site and noted that there is not a single board placed outside stating that the space is free for public.
The club's CEO Suresh Pawar claimed that a board has been placed after BMC's notice, but local activist Ajay Vichare alleged 'they had placed it only for a few days.'
Love Mumbai news?
Stay updated with the latest happenings.
Notify Me
People were always charged for using ground: Ex coach
Locals said they never knew the ground is for people. Joaquim Ferraro, a former coach of the club, said people had always been charged for using the ground. "We weren't aware of the facts until now," said Rajagopal N of Mindspace Malad Advanced Locality Management.
Encroachment
As GSC president denies wrongdoing, BMC finds another violation
Sunil Singhania, new GSC president, has denied the allegations. "The club has not violated any rules. The ground is open to the public."
As for taking action, BMC said, "We have informed the ward office of the open space misuse. The club will have to put up a notice board at all times."
But it also found areas in the basement and parking encroached.