'Chidambarams are threat to my life': Indrani Mukerjea's sensational claim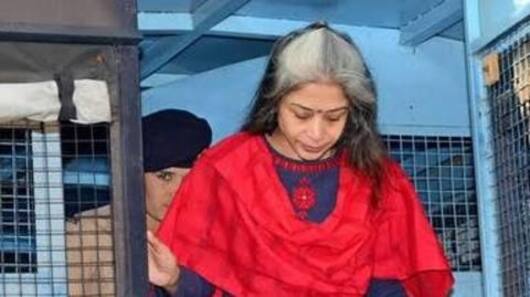 Former media executive Indrani Mukerjea, arrested for allegedly murdering her daughter, has made a sensational claim: the Chidambarams are a threat to her life, she says.
She is a prime witness to the INX money-laundering case involving ex-finance minister P Chidambaram's son, Karti.
Indrani said this after she was discharged from JJ hospital yesterday, five days after she was admitted for a drug overdose.
In context
Chidambarams are a threat to my life: Indrani
Truth? Fiction?
Indrani, through a letter, said she's "paying" for testifying
She also wrote a letter, in presence of the attending doctor, mentioning this allegation, when Nagpada police came to record her statement on April 9.
She wrote that after her statement against Karti and his father, they have taken this as a motive for vendetta.
She appealed to be given bail or be shifted to a CBI 'safe house', accessible only to her lawyer.
What is the INX money laundering case?
INX violated guidelines of FIPB in 2007 to receive Rs. 305cr by sale of shares. FIPM was then under Chidambaram, who allegedly asked them to take help from Karti's companies "to get the issues resolved" by influencing FIPB officials.
Love Mumbai news?
Stay updated with the latest happenings.
Notify Me
Security lapse
Indrani has reportedly overdosed twice while in prison
Indrani was hospitalized on Friday, after she fell unconscious in Byculla jail, where she's lodged.
She apparently consumed three strips of anti-anxiety drug Benzodiazepine, which were not prescribed to her.
After a 2015 hospitalization, also due to Benzodiazepine overdosing, she was put on amlodipine (anti-hypertensive), aspirin (anti-platelet), and amitriptyline (anti-depressant).
Meanwhile, Maharashtra Prisons department has ordered a probe into the possible security lapse.