Mumbai-cop stands in rain for 2.5hrs clearing traffic, wins hearts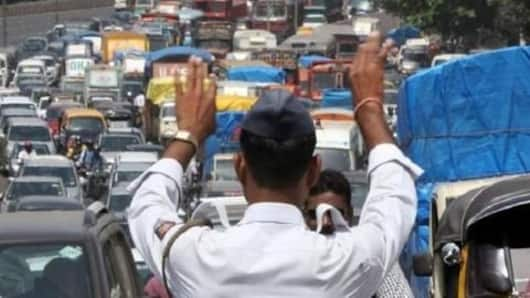 Showing ultimate dedication to one's duty, a Mumbai Police traffic constable stood for a whopping 2.5 hours manning the traffic, even as torrential rains lashed the city on Monday.
His reason was simple: had he gone for cover, it'd have resulted in chaos.
He was stationed at Akurli Road, near the Western Express Highway in Kandivali, which often sees unending traffic bottlenecks.
In context
Mumbai traffic constable's ultimate dedication is winning Internet
Details
He didn't wear a raincoat as 'there was no time'
Despite having no monsoon gear on him, Nandkumar Ingle said he just wanted to ensure traffic ran smoothly, without inconvenience.
"There was no time to don a raincoat (though he had one). I handed my phone and wallet to the warden and asked him to take cover," he said.
His exemplary dedication was captured on video by Satyam Yadav, who was near the junction.
'Don't know where he came from and started clearing traffic'
"The traffic was running normally but because of the sudden rain, there was complete chaos. People started running here and there. I don't know where this man came from but he started clearing traffic, quite enthusiastically," said Yadav, whose video now has over 1.2M views.
Love Mumbai news?
Stay updated with the latest happenings.
Notify Me
Dedication
Ingle returned home, satisfied, having done his duty
The traffic was smooth from 7-11PM, but strong winds caused a tree to collapse and also blew away barricades some 150mtrs away, resulting in temporary congestion.
"Pradeep Bhilaye from Dahisar traffic outpost came to my aid. Both of us stayed back till 11.30PM on the road," the 47-year-old shared.
After finishing his duty, a completely drenched Ingle returned home with 'satisfaction' in his heart.
Praises
He had no idea why 'normal' duty received such appreciation
Next day, his phone was inundated with calls from relatives, friends, seniors and colleagues, appreciating him for the selfless feat.
Ingle said he had served the force for 23 years, and had no idea why his 'normal' work got him so much praise.
"At first I thought it must be a prank. But when I saw the clip, I had goosebumps," he said smilingly.
Ingle has now been rewarded for his incredible feat!
Ingle's senior, Dahisar traffic division in-charge Surykant Gaikwad, expressed pride on the constable, saying at least now people might have some idea the challenging situations a traffic cop faces. Assistant Police Commissioner (North) Shakuntala Mistry felicitated Ingle on Wednesday for his incredible act.