Maharashtra students have a chapter on a railway-cop. Here's why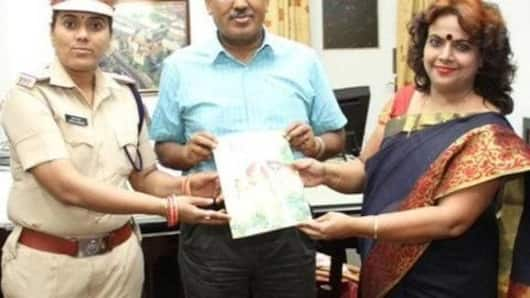 Maharashtra Board has dedicated a chapter to one 'Rekha Mishra.' Wondering why?
Mishra is an exemplary RPF (Railway Protection Force) officer who has rescued over 900 children.
In 2016, out of 1,150 rescues made by the Central Railway in Mumbai, 37% were by her.
Ever since she joined the RPF in 2014, helping women, senior citizens and rescuing children has remained her primary focus.
In context
Mumbai railway cop felicitated for her benevolence
Details
Posted at the bustling CST, Mishra has a tough job
"I never thought that I could become someone's role model. Maharashtra government's move has made me feel powerful," said an emotional Mishra, 32, a sub-inspector with the force.
On Monday, she was felicitated at a Central Railway event.
Hailing from Allahabad, Mishra is currently posted at the bustling CST Station, which is why her rescued children count is so high, she says.
Context
Not all children have run away from home: Mishra
Mishra first came to the limelight when she saved 434 children in 2016.
Her work is challenging: not all kids have run away from home and can be rescued as easily.
Some escape kidnappers, sexual-predators and traffickers, and tackling the criminals is tough.
However, Mishra gains the children's trust by striking a bond.
"I ask them 'mujhse fraandship karoge' and they laugh," she shared.
Love Mumbai news?
Stay updated with the latest happenings.
Notify Me
She says
'I watch out for those children who're lost, alone, scared'
Following protocol, she and her colleague Shivram Singh then take the children to the children welfare committee (CWC), who help trace their families through NGOs.
Children whose kin cannot be tracked are put up in welfare homes.
But how does she realize who needs help? "I watch out for those who are vulnerable, lost or without any guardian accompanying them," she told.
Case
In 2016, she reunited three Chennai girls with their parents
Mishra narrates one such case. In 2016, her team spotted three scared young girls in school-uniforms getting down from the Chennai Express.
When they asked, the girls gave her blank looks. Mishra realized they didn't understand Hindi.
A translator was called, through whom they conveyed that they were kidnapped, but somehow managed to escape and boarded the train in panic.
They are safe now.
Sampling
Most children rescued hail from UP, Bihar
The most vulnerable age group is 13-16 years, Mishra said. The majority of children she has rescued so far hail from Bihar and Uttar Pradesh.
"Most children run away after fights with their parents or siblings. Some do it to meet their Facebook friends or even to meet filmstars or join Bollywood," she pointed out.
The numbers shoot up during summer vacations, she added.
Incredible
Received Nari Shakti Puraskar last year, donated award-money to NGO
Last year, Mishra was conferred the Nari Shakti Puraskar and the FCCI Smart Policing Award.
She has donated the entire Nari Shakti award money of Rs. 1L to Childline, an NGO that works to rehabilitate and rescue children.
"I am very grateful for the award but I felt the rescued children needed the money more than I do," she had said then.