#Howzzat!: Mumbai Police lauds Virat's achievement in a special way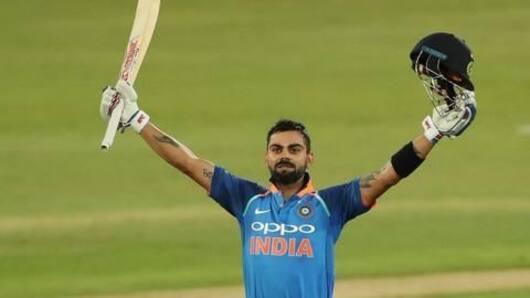 Indian cricket captain Virat Kohli scripted history on Wednesday when he became the fastest cricketer to score 10,000 ODI runs and the world took a bow.
Fans couldn't keep calm and pompously celebrated Virat's landmark achievement. So did we!
Interestingly, Mumbai Police turned out to be one of the fans and lauded his phenomenal feat in a special way.
Here's how.
In context
Mumbai Police praises Virat in a unique way
Record breaker
But first, let's talk about Virat's historic moment
Virat set the ODI-record while batting against West Indies in the second ODI that took place in Visakhapatnam.
It was a glorious moment because he broke the record of Master Blaster Sachin Tendulkar who took 259 innings to reach the figure while it was his 205th.
As he touched the milestone, he raised his arms to the sky, looked at Dhoni and grinned ear-to-ear.
Heaps of praises
Mumbai Police wouldn't hand Virat any 'over-speeding challan'
Mumbai Police has a knack of giving civic lessons in a spicy manner on Twitter.
For his milestone achievement, it said it would not hand any "over-speeding challan" to the batsman but would only praise him and wish for more runs.
Tendulkar, on the other hand, could not be more proud of Virat breaking his record. He also took to Twitter to congratulate him.
Love Mumbai news?
Stay updated with the latest happenings.
Notify Me
Virat v/s Tendulkar?
Is it time to compare Virat and Tendulkar?
With Virat breaking Tendulkar's record, people have started comparing the two legends.
He made his debut in 2008 when Tendulkar was already a cricketing deity in India.
Over the years, his status rose in international career and it has only boomed from there.
From seeing Tendulkar as an inspiration to being compared with him, Virat undoubtedly had a commendable journey.
The best times
We saw Tendulkar, we're seeing Virat, we're the luckiest!
It now makes us wonder how wrong it is to compare the two cricket gods.
While Tendulkar had already carved his name in our hearts, Virat is in a red-hot form and is one of the best batsmen of his generation.
The world may never see players like Tendulkar and Virat and we feel extremely lucky to have watched the two in their primes.