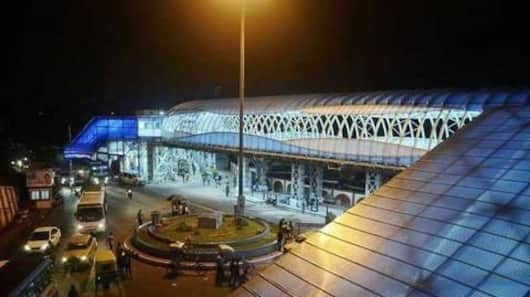 Mumbai-Thane skywalk to benefit 25,000 commuters every day
If everything goes as planned, by next March, there will be a 605 meters long and 145 meters wide skywalk connecting Mumbai with its equally bustling neighbor, Thane, across a creek.
This move is set to benefit a stunning 25,000 commuters, who risk their lives every day by taking the short-cut, i.e., walk on the railway tracks to reach Thane station.
In 2018, Thane recorded third-highest number of railway deaths
Credits:
No wonder Thane has accounted for the third-highest number of railway deaths on Central Railway, at 295 so far.
People who regularly travel from towns like Vitava and Kopri say if they take the other route, they have to walk for a minimum 20 minutes, or 30, if there is too much traffic.
So, they take the dangerous shortcut via the Thane-Kalwa railway tracks.
Use walkway, cross the creek in just five minutes!
This skywalk will surely prove to be a boon for them, as it would not only cover the safety aspect, it'd also reduce their time.
Officials claim shortest time to cross the creek now stands at 10 minutes. However, this skywalk will bring it down to half of that time!
For now, the walkway will have two landings, but plans are on for more.
Love Mumbai news?
Stay updated with the latest happenings.
Yes, notify Me
Skywalk may have more than two landings, says senior official
"We need to add more landings in between. If there are only two landings, people will be discouraged to take the skywalk," said Subodh Jain, former general manager of Central Railway. Notably, Jain was the first who floated the project idea in 2012.
After lot of negotiations, MMRDA given responsibility to build skywalk
After Jain's proposal, a study was conducted that showed that people traveling from Vitava and Kopri really did not have any other time-saver option than to take the tracks and reach Thane station.
The study was then made a part of railways anti-trespassing measures, but after a lot of negotiations, it was decided that MMRDA, the local infrastructure development body, would build the skywalk.
Skywalk to be built on Rs. 23.25 crore budget
Regarding connecting points, the enclosed walkway will have Thane station on the Mumbai end and Vitava on the Thane side, while stretching across the entire creek.
The ambitious plan, to be built at Rs. 23.25 crore, is also touted as the country's first skywalk connecting two cities across a creek.
It will run parallel to the railway tracks currently used by the pedestrians.
Skywalk to have elevators, seating system, anti-skid flooring
Design wise, the walkway will be a beautiful piece of construction, officials claim. It'll have elevators, seating system for senior citizens and anti-skid flooring that will be helpful during monsoons. There will also be fire-fighting equipment, clear signage boards and service ducts along the way.