300 "prying" CCTV cameras in IIT-B classrooms, hostel common rooms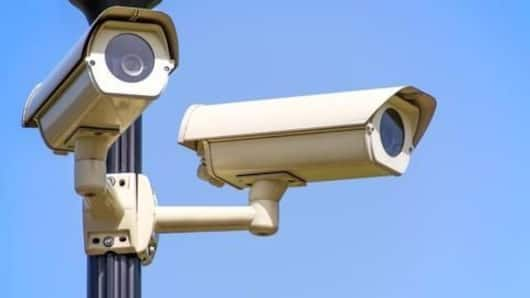 300 security cameras across the IIT-Bombay campus have baffled faculty, many of whom perceive it as "prying".
Officials, who say this is only the first phase of installations, have assured only authorized persons can access the feeds.
However, a recent mail to students asked them to "refrain from… inappropriate activities", saying two students had already been penalized.
Tap in for more Mumbai updates.
In context
The latest from Mumbai
21 Feb 2017
BMC, India's richest civic body, goes to polls
BJP tries to wrestle power from Shiv Sena to win control of BMC, the country's richest civic body. Nine other Maharashtra municipalities, including Nagpur, Thane and Pune, 11 zilla parishads and 118 panchayat-samitis also go to polls in the second part of civic elections on February 21.
Mumbai recorded 52.17% voter turnout, till 6:30 pm.
Noise pollution
Pollution Board bans horns in Mumbai, others
The Central Pollution Control Board has banned unnecessary honking of horns especially in silence zones, prohibiting use of pressure, multi-toned and musical ones.
Police in Mumbai, Navi Mumbai and Thane, among some others, have been directed to confiscate such horns.
Horns in Mumbai emanate noise as high as 110 decibels. WHO warns long-term exposure to noise levels over 85db can cause hearing loss.
Love Mumbai news?
Stay updated with the latest happenings.
Notify Me
Voters
Inked fingers can get you freebies in salons, eateries, gaming-zones
To encourage voter turnout, many establishments in Mumbai, like salons, game parlours and food joints, have promised freebies to voters.
An Antop Hill hair salon and spa has offered voters from ward no 179 and 180 upto 50% discount on different services till March 10.
Targeting youths, a Lower Parel gaming zone will let visitors who voted enjoy a game of their choice.
Vasai
Thriving prostitution ring in Vasai harasses residents
An open prostitution racket in Vasai has made life hard for residents. Women face unwanted stares, while men have to uncomfortably dodge prostitutes while getting around.
Taking advantage, autorickshaw drivers in the vicinity have also started charging double the normal rates.
About 70 housing societies in Vasai West have demanded immediate police intervention. However, despite repeated requests, no action has been taken yet.
Nidhi Chapekar
Brussels attack icon Nidhi Chapekar invited to Belgium
Brussels attack survivor Nidhi Chapekar has been invited to Belgium on the first anniversary of the March 22 bombings that left 31 dead.
The former Jet Airways airhostess is still employed with the airline, but doesn't fly nowadays.
Chapekar, whose photo at the airport immediately after the blasts became the defining image of the incident, has undergone extensive skin grafting and important surgeries.
Railways
Patrolling along tracks increased in wake of suspected sabotage incidents
After recent incidents of recovery of suspicious items near railway tracks and suspected sabotage cases, the Railway Protection Force has upped patrolling in Jasai, Kalamboli, Panvel and Taloja areas.
Around 35 personnel have been deployed for enhanced security.
The anti-terror squad and intelligence wing are meanwhile investigating the sabotage angle after big metal pieces were found laid across tracks.
Nashik
Nashik onions to reach more destinations
Thanks to a bumper produce this year, Nashik onions will now reach more parts of the country, even as the railways deploys an extra rake for their transport.
Presently, all onion-laden trains head to Fatuha (Fatwa) junction in Bihar, but with the new train, the harvest will reach Dankuni, Malda, Sitapur and Ranipatra.
The new rake is expected to enhance carrying capacity by 30%.