Mumbai's BJP leader wants Gateway of India to be renamed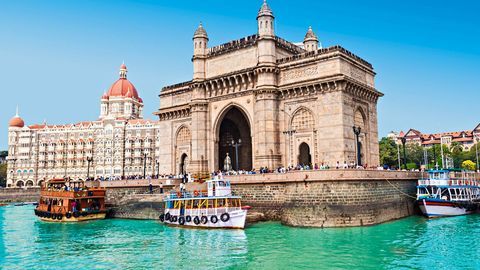 BJP MLA Raj Purohit wants Mumbai's iconic Gateway of India to be renamed to 'Bharatdwar'. Purohit earlier wanted Marine Lines railway station to be changed to Mumbadevi.
According to Purohit, Gateway of India, was built in December 1924, to celebrate the landing of King George V and Queen Mary is a "symbol of slavery to the British".
Tap in for more news from Mumbai.
In context
Mumbai news this weekend!
Civic news
Track work on Mumbai's Mulund-Matunga line delay other trains
A megablock for track maintenance will be carried out on the Mulund-Matunga slow line which will affect the schedule of other trains.
All Up slow line services leaving Thane will be rerouted on Up fast line between Mulund and Matunga stations.
All Down and Up slow line services leaving/arriving CST between 11am and 5.30 pm will get delayed by 10 minutes.
Justice served
Bombay HC orders insurer to pay Rs 1.3 crore compensation
The Bombay High Court ordered insurer to pay over Rs 1.3 crore as compensation to the family of deceased Sudam Auti, 11 years after his death.
In 2006, Auti was driving his car when a tempo coming from the opposite side rammed into his vehicle that killed him.
The compensation has been divided among surviving members of Auti's family.
Love Mumbai news?
Stay updated with the latest happenings.
Notify Me
Weather
Onset of monsoon yet to be declared officially in Mumbai
Mumbaiites may have to wait for another 24-48 hours before the onset of the monsoon season is officially declared.
On Sunday, monsoon was seen entering various districts of Maharashtra and for Mumbai, moderate to heavy showers were expected for the next 24 hours on Sunday afternoon.
This year too monsoon didn't keep its date with Mumbai which was June 10.
Environment
NGO presses for preservation of Mumbai's Aarey forest
NGO Vanashakti that has long been pressing for the preservation of Aarey forest, unravelled documents that state that Aarey forest is demarcated as 'unclassed forests' of the Sanjay Gandhi National Park.
They are now alleging a scam on the part of forest department of concealing this information to build a car shed.
NGT's Pune bench has put an interim stay on the shed construction.
Pune
Bombay HC asks state's response to 26-week foetus abortion plea
The Bombay High Court asked for state's response to the plea of a Pune resident seeking permission to abort the 26-week foetus of his minor daughter, who is a rape survivor.
According to the Medical Termination of Pregnancy Act, abortion is not permitted after 20 weeks.
His daughter had been abducted and raped repeatedly by her neighbour when she was 17.