Mamata's moves: Is she anti-Hindu or are they political gimmicks?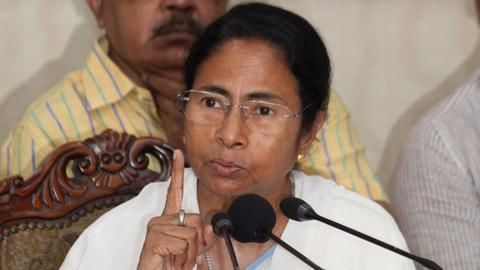 West Bengal CM Mamata Banerjee ordered that there will be no Durga idol immersion on Muharram (Oct 1) and in case of non-adherence, action will be taken.
She claimed that such a decision was necessary to ensure that no communally-charged instances occur. However, this diktat has received virulent reactions.
So, has it proved counterproductive? Read on to know her political moves.
In context
Mamata's anti-Hindu stance fans communal tensions
Minority outreach
Mamata's appeasement politics
Though a "devout" Hindu, Mamata realized the importance of a Muslim base during Nandigram agitations in 2007. Consequently, her 2009 justice campaign for Rizwanur Rehman made her a Muslim messiah.
Following this approach, she made Urdu the second official language in more than 10% Muslim population districts; she further gave sops to imams and high budgetary allocations for madrassas and minority affairs.
Against saffronization
Fighting the BJP's "saffron politics"
Mamata has consistently fought against what she terms as "BJP's saffronization."
She has spoken out against the "politics of cow" and "cow surveys." After the Centre's notification that no cattle could be sold or brought for slaughter, Mamata Banerjee refused to follow the order.
Further, accusing BJP of imposing educational policies, she refused to follow the HRD Ministry's School Independence Day programme.
Love Politics news?
Stay updated with the latest happenings.
Notify Me
A repeat performance
Durga Puja: Always the same story
In 2016, Mamata's government had put time limits on idol immersions claiming that it would clash with Muharram processions which may lead to a law-and-order situation.
This was immediately struck down by Calcutta HC accusing the government of minority appeasement and stating that the processions were not vital to Muharram but idol immersion was essential for worshipping Maa Durga.
Increase in rioting incidences
After instances of appeasement politics, since October last year, riots have occurred in Basirhat, Kaliachak, Illambazar, Hazinagar, Dhulagarh, Jalangi, Kharagpur, Burdwan among other regions. She has either censured or denied most of these riots.
21 Sep 2017
HC cancels Mamata Banerjee's 'no immersion during Muharram' order
The Calcutta HC has struck down CM Mamata Banerjee's order prohibiting immersion of Durga idols during Muharram.
The HC has allowed immersion on all Puja days including Muharram (October 1). It has also asked police to ensure designated routes for immersion and Tazia.
"Let (Hindus and Muslims) live in harmony, do not create a line between them," Chief Justice Rakesh Tiwary told the government.
24 Sep 2017
Idol immersion: WB won't challenge HC order, but finds loophole
The WB government won't move the SC against the Calcutta HC's order allowing Durga idol immersion on Muharram.
However, those wanting to immerse idols on October 1 would require prior police permission. Police have the right to refuse to prevent law and order breakdown.
TMC MP Kalyan Banerjee said the HC's order wasn't against the state. "If anything, the state has been empowered."
State's Politics
How politics in WB is changing
With the Left out of the picture, it is Mamata versus BJP.
Mamata is sailing a rocky boat: maintaining her secular credentials and simultaneously not alienating her dedicated Muslim votebank.
BJP has turned up the Hindutva heat to cover bases in WB ahead of LS elections 2019.
Both parties don't seem to be bowing down. The future may surprise us.