Gujarat Elections on December 9 and 14, counting on 18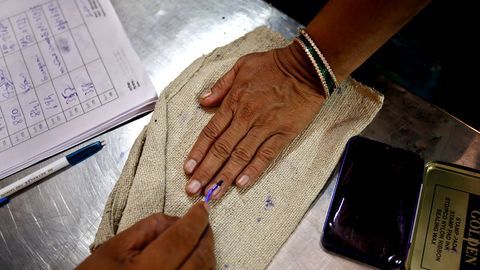 After much controversy, the Election Commission has finally announced details of the upcoming Gujarat Assembly Election.
The poll will be held in two phases: December 9 and 14. The model code of conduct goes into effect right now.
Counting will be held on December 18.
There will be 50,128 polling booths for 4.3cr voters.
Incidentally, the BJP government announced several sops just yesterday.
In context
Gujarat Assembly Elections 2017
Dates
Critical dates for the two-phased polls
For the first phase (December 9), gazette notification will be issued on November 14. The last date to file nominations is November 21 and to withdraw is November 24.
For the second phase (December 14), gazette notification will be issued on November 20. The last date to file nominations is November 27 and to withdraw is November 30.
Details
CCTVs at strategic points, 24x7 complaint monitoring centres
On December 9, 89 seats will go to polls, and 93 seats on 14. All events will be videographed and CCTVs installed at critical points including border checkposts.
Control room and complaint monitoring centres will be available 24x7.
There will be 102 all-women manned polling stations.
Election expenditure has been capped at Rs. 28L; banks have been asked to monitor candidates' spending.
Love Politics news?
Stay updated with the latest happenings.
Notify Me
EC to use VVPAT machines this time
The EC has announced it will use VVPAT machines in polling. Earlier, the Congress had urged the SC to direct the polling body to frame guidelines for counting of votes through VVPAT machines in the Gujarat elections and others.
Significance
What do the polls mean for the BJP and Congress?
The term of the 182-member Gujarat Assembly ends on January 23, 2018. These elections are a prestige battle for the BJP, which had won 116 seats in 2012; this time it is targeting 150.
Meanwhile, a win in PM Narendra Modi's home state can change the Congress' fortunes, which is hoping for an anti-incumbency sentiment: party vice-president Rahul Gandhi has been campaigning aggressively in Gujarat.
Predictions
BJP expected to win big in both Gujarat and Himachal
Opinion polls have predicted a win for BJP in both states. Axis My India sampled 18,243 Gujarat respondents: 48% said they would vote for BJP (115-125 seats predicted) and 38% Congress (57-65 seats predicted).
Incumbent CM Vijay Rupani is the most popular choice for the position (34% votes).
BJP (43-47 seats) is expected to defeat Congress (21-25 seats) in the 68-seat Himachal Assembly too.
Controversy
Rains delayed poll date announcement: EC responds to controversy
There was criticism when the EC announced the schedule for Himachal Pradesh on October 12, but not Gujarat's.
The opposition alleged it was to benefit the ruling BJP. PM Narendra Modi had defended the EC, saying they don't have the right to question it.
CEC Joti attributed it to ongoing rescue work for floods; announcing dates would have diverted government workers to election duty.