Will not link my Aadhaar number with mobile: Mamata Banerjee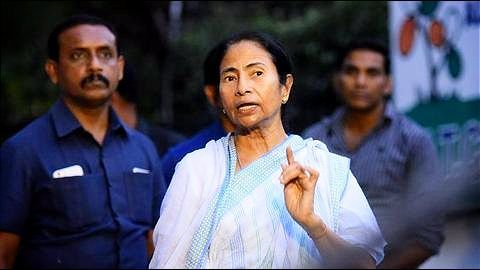 West Bengal CM Mamata Banerjee opposed the mandatory Aadhaar-phone number linking and said she will not link them even if her mobile connection is snapped.
On 23 March, the Department of Telecommunications notified that Aadhaar is required for mobile connections.
At the Trinamool Congress's core committee meeting, Banerjee accused the Centre of "autocratic rule," adding her party will dethrone BJP in Delhi.
Know more!
In context
Mamata Banerjee opposes Aadhaar-Mobile number linking
Centre interfering in people's rights, privacy: Mamata Banerjee
Banerjee said: "They (Centre) are interfering in the people's rights and privacy. Aadhaar number should not be linked with one's mobile phone. They have unleashed an autocratic rule in the country. No one can raise voice against them, else I-T, ED, CBI will be unleashed."
Protest
Trinamool will protest even if leaders are jailed
Banerjee said Trinamool Congress doesn't want to be in power at the Centre but will play a role in removing BJP from power.
She said her party will protest against the Centre even if all its leaders are sent to prison, adding they "are not cowards".
At the meeting, she also warned Trinamool members that she will not tolerate any sort of anti-party activities
Love Politics news?
Stay updated with the latest happenings.
Notify Me
No one can "finish" Trinamool, says Banerjee
Mamata Banerjee said: "I track everything in the party organization. Workers are our strength, not the leaders." She added the Trinamool has "emerged through a lot of struggles and sacrifices and it is not so weak that one can finish it".
Demonetization
"Demonetization is a big scam by BJP"
The Trinamool supremo criticized the Centre's demonetization-drive, saying there should be an investigation into the "big scam."
Adding that even Manmohan Singh and Yashwant Sinha are against demonetization, she questioned if all these leaders are wrong.
Trinamool would observe 8 November as "Black Day" with Congress and other opposition parties, while the Centre said it would be celebrated as "Anti-Black Money Day".
30 Oct 2017
State cannot challenge Centre: SC on WB's petition against Aadhaar
The SC slammed the WB government for challenging the Centre's directions on Aadhaar, saying a state cannot challenge the Centre's laws in a federal structure.
CM Mamata Banerjee could challenge Aadhaar being mandatory for social welfare benefits, but only as an individual.
However, it admitted "the controversy over Aadhaar needs examination".
Meanwhile, it has asked the Centre to explain why Aadhaar-SIM linking is necessary.