Rahul's elevation as party president quietly pushed to December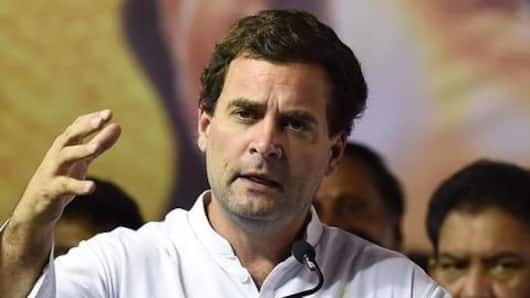 DNA reports that the upcoming Assembly elections may have cast a shadow on Congress VP Rahul Gandhi's elevation as party president.
The appointment may have been pushed to December 28, the party's foundation day. As per the EC's deadline, Congress must complete its organizational polls by December 31.
Rahul's elevation has now become necessary in view of mother Sonia Gandhi's health concerns.
Here's more!
In context
Rahul's elevation as party president: Deferred to December
Contrasting views in the party regarding elevation
There are two contrasting views within the party regarding his promotion. One section feels that there should be an immediate elevation as it would boost the election campaign. But, another section feels the elevation will divert party workers' attention from electioneering.
Fear
What does the party leadership fear?
Party leadership feels that if Rahul is elevated in December and Congress loses in Himachal or Gujarat, it would not be flattering for Rahul.
Another view is that assembly election's loss will anyways be linked to Rahul since he is Congress's star campaigner.
Meanwhile, the party fears a defeat in Congress-ruled Himachal but is confident of a win in PM Narendra Modi's home-state Gujarat.
Love Politics news?
Stay updated with the latest happenings.
Notify Me
Preparations
How have the party's organizational poll preparations progressed?
According to internal polls, nominations filed from states indicate a unanimous elevation of Rahul as party president.
However, party leaders fear that outside forces (rival parties) may force a contest. This may divert attention from Assembly elections.
If Rahul's elevation is pushed to December, election of Congress working committee may also be postponed as half of the members are nominated by the party president.
Long overdue
Isn't it time Rahul took the party's reigns?
Whether Congress loses Gujarat or Himachal, Rahul will be taken seriously as a counter force to Modi as there is hardly any leader to take that role.
AAP's Arvind Kejriwal has been subdued after facing reverses in Punjab elections and JD(U)'s Nitish Kumar, once seen as a possible opposing force, has joined Modi's wagon.
Thus, it may be time to promote Rahul to party president.