Rahul: GST, note ban have ruined ease of doing business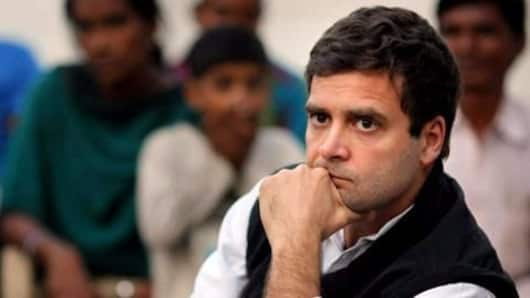 The day after World Bank (WB) noted that India's business climate has improved, Congress VP Rahul Gandhi said that demonetization and goods and services tax (GST) have ruined ease of doing business.
In a recently released WB report "Doing Business 2018: Reforming to Create Jobs," India stunned the world by jumping 30 places on the index and ranking 100 of 190 countries. Know more!
In context
Rahul Gandhi's comments on ease of doing business
World Bank
What did the World Bank's analysis reveal?
WB's VP Annette Dixon said that India is one of the ten top "improvers" across the world. She said the new ranking "indicates India's endeavor to further strengthen its position as a preferred place to do business globally."
It acknowledged India's structural reforms and increased India's rankings in the "ease of paying taxes" and "resolving insolvency" parameters.
Arun Jaitley
How did FM Arun Jaitley react after the report's release?
About India's ranking, finance minister Arun Jaitley said this was the "highest jump any country has ever made" and was possible due to the initiated reforms.
He said if India continues to work on areas where it lags behind like construction permits, it has the potential to break into top 50, as was envisioned by PM Narendra Modi.
Love Politics news?
Stay updated with the latest happenings.
Notify Me
RaGa
What did Rahul Gandhi say?
Rahul said "it is just a handful of businessmen who have found the going easier" and Jaitley "should meet small and medium-sized businessmen to know if there is real improvement."
Earlier, referring to a verse by Urdu poet Mirza Ghalib, Rahul tweeted, 'Everybody knows the reality of ease of doing business, but this thought is good Dr Jaitley to keep yourself happy.'
Later, Jaitley tweeted his reply
Not one to take things lying down, Jaitley tweeted his reply to these statements saying "the difference between the UPA and NDA: the ease of doing corruption has been replaced by the ease of doing business."
Implication
What does this mean for BJP?
India was ranked 142 for business ease in 2014 and Modi had promised to place India among the top 50, attracting record FDI in last two years.
However, after demonetization and GST's rollout, economic growth dipped to a three-year low of 5.7% in the last quarter.
Thus, this report might reduce the rhetoric around Modi's economic policies ahead of the Gujarat and Himachal polls.