Hindu Mahasabha installs Nathuram Godse's bust in Gwalior office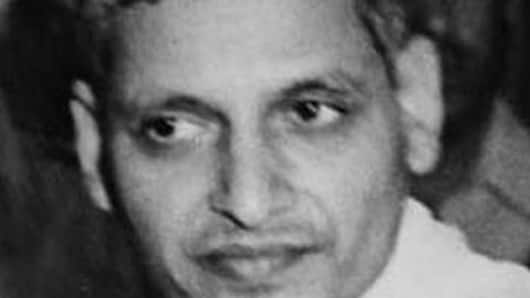 In a controversial move, the Akhil Bharatiya Hindu Mahasabha marked the death anniversary of Mahatma Gandhi's assassin Nathuram Godse by installing his statue at its Gwalior office.
Earlier, it had sought permission to build a temple in his name, but was denied permission by the district administration.
With the 32-inch-tall bust, a "temple" has now been built, said Hindu Mahasabha Vice President Jaiveer Bharadwaj.
In context
Hindu Mahasabha installs Nathuram Godse's bust
About
Who is Nathuram Godse? An introduction
Nathuram Godse was a Hindu nationalist known for the assassination of Mahatma Gandhi.
On January 30, 1948, Godse killed Gandhi by shooting him in the chest thrice.
Eight men were convicted of murdering the 'Father of the Nation' by a special court, after a trial that lasted more than a year.
Godse and co-conspirator Narayan Apte were hanged on November 15, 1949.
Love Politics news?
Stay updated with the latest happenings.
Notify Me
History
The Hindu Mahasabha has often paid tributes to Godse
The Hindu Mahasabha has marked Godse's death anniversary as "Shaurya Diwas" ('Bravery Day') and "Balidaan Diwas" ('Day of Sacrifice') throughout the years.
Two years ago on this day, the group's Meerut division launched a website titled 'Nathuram Godse -The Real Forgotten Hero'.
It attempted to erect his statue in Meerut in January'15, but the plans were foiled when police sealed the place.
Why a bust at Gwalior?
According to Bharadwaj, Godse stayed at the Hindu Mahasabha for a week before the assassination. Godse had also acquired the gun used to kill Gandhi in Gwalior, he said. A temple to Godse is reportedly being planned at the group's Daulatganj office.
Reax
Congress calls for case of sedition against the Mahasabha
The Congress has called for registering a case of sedition against the Mahasabha.
"A temple of Bapu's killer is being established under the nose of Shivraj Singh Chouhan, who pretended to be fasting using the name of Gandhiji," tweeted senior leader Jyotiraditya Scindia.
MP BJP spokesperson Rajnish Jain said, "If anybody has violated the law…such activity would come under the purview of law."