Lalu's son threatens to beat up Bihar deputy-CM Sushil Modi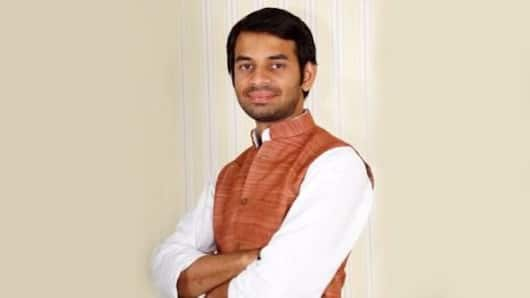 Tej Pratap Yadav, Lalu Yadav's son, courted controversy after a video of him allegedly threatening Bihar deputy CM Sushil Modi emerged.
Tej reportedly made the remarks at a public meeting in Aurangabad on November 19. In the video, RJD's Tej claims that he will expose Sushil Modi. He, further, threatened to beat him up at his son's wedding next month.
Here's more!
In context
Tej Pratap Yadav threatens deputy CM Sushil Modi
Tej Pratap
What does Tej Pratap say in the video?
In the video Tej says that Sushil Modi inviting him to his son Utkarsh's wedding is insulting. He claimed, "A fight is going on, and I will do politics there because of the way we have been cheated, and the poor are treated."
He justifies his intimidating behavior by saying that he is emotional like his father, Lalu, "who speaks from the heart."
Enmity
Why is there animosity between RJD and BJP?
RJD and JD(U) had formed the government after winning the 2015 elections as part of the Mahagathbandhan, which also included Congress.
However, after corruption allegations against Lalu surfaced, JD(U)'s Nitish ditched the Mahagathbandhan; he however retained power by forming an alliance with BJP.
Further, RJD has been claiming that BJP is behind the corruption cases filed against Lalu and his family members.
Love Politics news?
Stay updated with the latest happenings.
Notify Me
Sushil Modi
How did Sushil Modi react?
Responding to this, Modi said he had extended invitations to leaders across party lines as courtesy.
Modi claimed Tej was "frustrated" because he had "been exposing corruption and scandals involving Tej's family which led to his party losing power."
He however expressed wariness about Tej's provocative comments and requested Lalu to intervene.
Modi's son's wedding on December 3 will be a simple affair.