Another Twitter goof-up by Congress scion Rahul Gandhi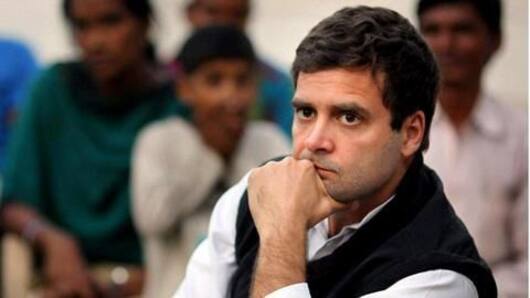 With Gujarat election inching closer and the upcoming declaration of Congress's new party president, Rahul Gandhi has several excuses to be in news. But the Gandhi-Nehru scion is making headlines for a reason less flattering.
He was in for a major embarrassment on Tuesday when he got his math wrong on Twitter while holding the NDA government responsible for skyrocketing prices of basic commodities.
In context
Of Rahul Gandhi and his Twitter blunders
What happened?
Rahul Gandhi accuses PM Modi, backs claims with flawed data
Rahul Gandhi tweeted an infographic comparing prices of essential goods such as cooking gas and vegetables in 2014 (when the NDA government came to power) with their costs now, and blamed PM Modi for the inflation.
He asked Modi to give Gujarat a reasonable explanation for the crisis-like situation. However, he couldn't even get, the percentage increase of commodity prices on his list, right.
Details
Too eager to bring down PM Modi, are we?
The data that Gandhi tweeted to support his claim of growing inflation in the Modi regime had 79% rise in the cost of gas cylinders miswritten as 179%.
It miswrote the price hike of everything else too. Pulses 177% instead of 77%, tomatoes 285% instead of 185%, onions 200% instead of 100%, milk 131% instead of 31%, and diesel 113% instead of 13%.
Love Politics news?
Stay updated with the latest happenings.
Notify Me
Damage control
Rahul Gandhi deletes old tweet, replaces it with correct numbers
However, Rahul Gandhi realized his mistake, deleted the tweet and replaced it with a new tweet and correct data.
Gandhi has been shooting one question each day at PM Modi since the last seven days, holding his government accountable for the promises it made to Gujarat during the previous state elections. Notably, the BJP has been ruling in Gujarat for the last 22 years.
When you get the first wrong: Rahul Gandhi tweet 2.0
22 सालों का हिसाब#गुजरात_मांगे_जवाब

प्रधानमंत्रीजी-7वाँ सवाल:

जुमलों की बेवफाई मार गई
नोटबंदी की लुटाई मार गई
GST सारी कमाई मार गई
बाकी कुछ बचा तो -
महंगाई मार गई

बढ़ते दामों से जीना दुश्वार
बस अमीरों की होगी भाजपा सरकार? pic.twitter.com/1S8Yt0nI7B

— Office of RG (@OfficeOfRG) December 5, 2017
Public perception
Does Rahul Gandhi need a more responsible social media team?
On Gandhi's recent gaffe, union minister Jitendra Singh has advised him to change his script writer.
However, campaigning in Gujarat earlier last month, Gandhi had said a team of three-four people managed his Twitter account and tweeted only regular stuff on his behalf. His political tweets, he said, were his own.
Who then needs to be changed now?