Politicians turn Nirbhaya's commemoration event into blame-game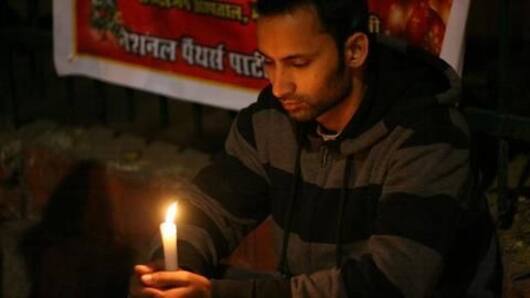 The pain of losing one's daughter to brutal gang-rape has to be severe enough by itself. But when others turn it into an opportunity to play politics, it's bound to be intensified.
Nirbhaya's parents were left "deeply hurt" when an event to commemorate their daughter was disrupted by an AAP-BJP spar.
It all started when Delhi CM Arvind Kejriwal was booed during his speech.
In context
Nirbhaya event turns into political slugfest
AAP
BJP booed Kejriwal, didn't let him speak, says AAP
The Nirbhaya Jyoti Trust had organized their annual Nirbhaya Chetna Diwas at Constitution Club on December 16, five years after the 23-year-old's gangrape.
Former NCW chairperson Mamta Sharma and DCW chief Swati Jaihind first spoke about increasing rape cases and need for security.
But when Kejriwal started speaking, some people started booing. The event had to be halted.
AAP blamed BJP for the disruption.
Love Politics news?
Stay updated with the latest happenings.
Notify Me
BJP
Kejriwal shouldn't have 'politicized' speech, BJP responds
However, Delhi BJP Chief Manoj Tiwari, who reportedly reached sometime after Kejriwal had left, denied the allegations.
Condemning the incident, he said, "Kejriwal started blaming the Centre and tried to politicize the event. He should have just told the people about what his government has done instead of blame-game."
"Whatever the AAP is trying to spread about my visit...is needless propaganda," Tiwari said.
Event lost its purpose due to politics, laments Nirbhaya's mother
All of this left Nirbhaya's mother, who also contributed in organizing the event, "deeply hurt" and "traumatized". "It hurt me to see the annual event became a political arena. A lot of hard work went into organizing the event, which lost its purpose due to politics."
Justice
The family still awaits justice five years later
Five years later, Nirbhaya's parents await justice as the convicts have filed a review petition in the SC against death sentence.
Earlier, the Delhi HC as well the apex court had upheld the penalty awarded by a trial court in September'13.
Till then, her family has nothing to do but wait. "Everyday a Nirbhaya is gangraped and killed...I feel it's happening with my daughter."