#IndiaDecidesOn18th: BJP set to form government in Gujarat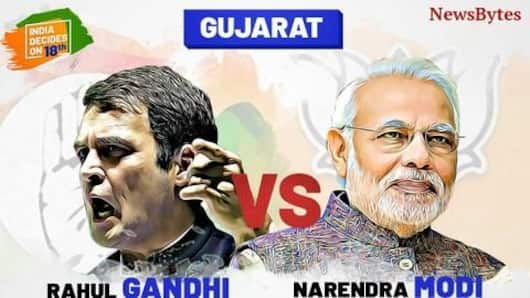 Trends suggest that BJP will retain Gujarat. It will win for a record sixth time, but with a reduced margin.
BJP's win in Gujarat would suggest that though measures like GST and demonetization did disrupt its vote-share, overall Gujaratis continue to trust PM Modi's development model.
With Gujarat in the saddle, BJP will now rule 19 Indian states.
But, did BJP perform how they thought they would?
In context
Gujarat: BJP is all set to make government
Urban v/s Rural
As per early trends, Congress was leading in rural areas
Early trends suggested that Congress was leading in rural areas, whereas BJP was leading in urban areas. BJP is traditionally viewed as an urban party and the outskirt rural areas prefer Congress.
Gujarat has 39 urban, 100 rural and 43 semi-urban seats. In 2012, BJP had swept urban and semi-urban seats but Congress had given it a tough fight in rural seats.
Love Politics news?
Stay updated with the latest happenings.
Notify Me
Congress
Congress reacts to the party's loss
Ashok Gehlot, Congress's Gujarat in-charge, reacted to the party's apparent loss.
Referring to Congress president Rahul Gandhi's rallies, where he attacked Modi's economic policies, dismal unemployment indicators and an overall development deficit, Gehlot declared that Rahul ran an "issue-based campaign."
Attempting to save face after a high-octane campaign, Gehlot said, "Irrespective of final results, Rahul Gandhi is the winner."
He claimed Congress campaign promoted democracy.