AIADMK sacks six office-bearers for supporting Dhinakaran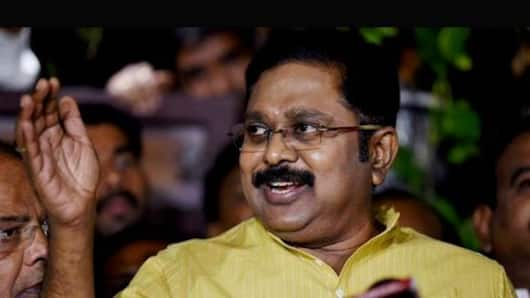 After they were left red-faced by the RK bypoll results, AIADMK sacked six office-bearers for allegedly supporting rebel leader TTV Dhinakaran.
AIADMK has also asked EC to probe alleged poll violations. Defeating the AIADMK and DMK candidates, Dhinakaran won the bypolls with a margin of over 40,000 votes.
So, how does Dhinakaran's win change equations in Tamil Nadu's political theatre? We elaborate!
In context
How will Dhinakaran's bypoll win affect TN politics?
Successor?
Who is Jayalalithaa's true successor?
Dhinakaran's win at RK Nagar, which was earlier Jayalalithaa's constituency, raises questions about her true heir.
Have the voters revealed that they prefer Sasikala-Dhinakaran faction to the Palaniswami-Paneerselvam duo?
Interestingly, after this win the rebel Dhinakaran-camp will gain strength as except for a few top leaders, many AIADMK leaders are in touch with Dhinakaran or Sasikala's family. Apparently, they are flexible about their support.
AIADMK
What does this say about AIADMK?
RK Nagar loss puts CM Palaniswami and Deputy CM Panneerselvam-led AIADMK faction in a tough spot. Now, the case of 18 disqualified MLAs supporting Dhinakaran and the assembly session to be held next month will be crucial. If it goes in Dhinakaran's favor, it would threaten Palaniswami's government, making it a minority.
Dhinakaran won't topple the government but will seek to "capture" it.
Love Politics news?
Stay updated with the latest happenings.
Notify Me
BJP
What does this mean for BJP?
The BJP apparently orchestrated the Palaniswami-Panneerselvam reunion to make in-roads into TN, where it has no presence.
After their favored-AIADMK suffered abysmally, BJP might have to bury the hatchet with Dhinakaran's faction. This, however, might be tough. Dhinakaran has accused BJP of creating fake corruption cases against him to malign him.
He had also accused Palaniswami-Paneerselvam of hobnobbing with BJP, appealing to Tamil pride.
DMK
Absolved in 2G scam, still DMK's candidate loses deposit
Though the 2G verdict lifted DMK morale, the RK Nagar bypoll was a big setback. DMK candidate even lost his deposit.
Interestingly, both AIADMK factions which sought votes in Jayalalithaa's name secured over 1L votes.
But, DMK is hopeful. Dhinakaran's win lays bare AIADMK's instability. Now, they are banking on a floor test to foster fresh elections, which they are confident of winning.
TN politics
What does this mean for TN politics?
Since Jayalalithaa's death, TN has been embroiled in political turmoil. The RK Nagar polls show that surprises never cease.
The polls, however, reveal that AIADMK has no leader to match MGR and Jayalalithaa's legacy. Dhinakaran's money power combined with tactics like releasing Jayalalithaa's hospital CD just ahead of the polls may have worked in his favor.
Dhinakaran's win only ferments further confusion in TN.