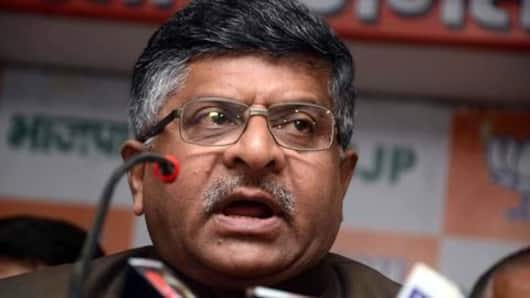 Lok Sabha passes bill making instant triple-talaq a criminal offense
Months after the Supreme Court banned "Triple Talaq", the Lok Sabha has passed a bill criminalizing the instant Islamic divorce.
Interestingly, the bill was passed on the same day it was introduced in the Lower House by Law Minister Ravi Shankar Prasad.
The bill, which has provisions for up to three years' imprisonment and penalty for violators, will now be tabled in Rajya Sabha.
'Triple Talaq law is for women's rights and justice'
In a fervent speech, Ravi Shankar Prasad announced that triple talaq law is "for women's rights and justice and not regarding any ritual or religion."
He lamented that even after the SC's order terming triple talaq null and void, the practice continued. Thus, this bill has become necessary.
Rubbishing claims that it violates fundamental rights, Prasad asked - don't triple talaq victims have rights.
Pronouncement of talaq in any form is illegal
The draft Muslim Women (Protection of Rights on Marriage) Bill 2017 -as it is officially called- stated: "Any pronouncement of talaq by a person upon his wife...either spoken or written or in electronic form or in any other manner whatsoever shall be void and illegal."
Love Politics news?
Stay updated with the latest happenings.
Yes, notify Me
Citing legislation and judgments, Owaisi claims bill is unconstitutional
Owaisi, in his rebuttal, said the bill lacks "legal coherence" and "violates fundamental rights."
Elaborating, he said, the bill says the person in jail will pay allowance; "How is that possible?"
Further, he declared that the bill should be applicable to all married men who have abandoned their wives. This way "our bhabhi in Gujarat" (Jashodaben Modi, PM Modi's wife) will also get justice.
What were the other oppositions to the bill?
Credits:
Others also opposed the bill. IUML's Mohammed Bashir said the bill violates constitution's article 25, which allows freedom to practise one's religion. He said the bill violates Muslim Personal law and is politically motivated.
BJD's Bhatruhari Mahtab was opposed to the bill's framework. He claimed that the bill is riddled with internal contradictions and urged government to re-frame it.
What did the Congress say?
Meanwhile, the grand old party didn't say anything about the bill in Parliament. But, Congress's Manish Tewari said, "Congress is definitely supporting triple talaq bill but the provisions will be scrutinized." He claimed that "difficulties in the provisions will be dealt with."