Rajya Sabha's new record: Completes entire Zero Hour agenda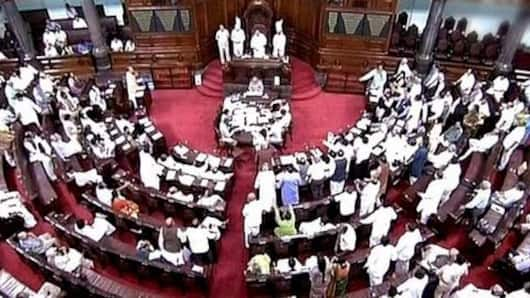 Today, Rajya Sabha created history of sorts by taking up all the Zero Hour issues and special mentions listed in the agenda. Chairman Venkaiah Naidu looked visibly happy and congratulated the house, amid thumping of desks.
He said, "Your cooperation is good, so my operation was very smooth. That's why the House was able to set this record."
Read on to know more!
In context
What record did Rajya Sabha make today?
What are Zero hour and special mentions?
Zero Hour and special mentions are devices used by the RS to raise issues of public importance. The Zero Hour starts at 12 noon after the Question Hour ends. Members, with prior notice to the Chairman, can raise topics of urgent discussion.
Controversy
Why was the RS not functioning until now?
Parliament's winter session has been mired by attacks and counter-attacks. During the Gujarat campaign, Modi had alleged that former PM Manmohan Singh was colluding with Pakistan to manipulate Gujarat elections. Congress slammed Modi for casting aspersions on Singh's loyalty to India and demanded an apology.
Following some deft back-room diplomacy and FM Arun Jaitley's well-crafted apology, Congress allowed RS to function.
Love Politics news?
Stay updated with the latest happenings.
Notify Me
Chairman Naidu
Meanwhile, Chairman Naidu also pulled up members for bad behavior
However, Chairman Naidu, who is a stickler for discipline, also pulled up members on two occasions. He asked members not to talk when obituary references were being read out. He was also displeased when some members, who had listed questions against their names, didn't turn up.
To improve productivity, he suggested that ministers do their home-work about the Zero Hour and special mention submissions.