After Rajinikanth meets Karunanidhi, Stalin targets his "spiritual politics"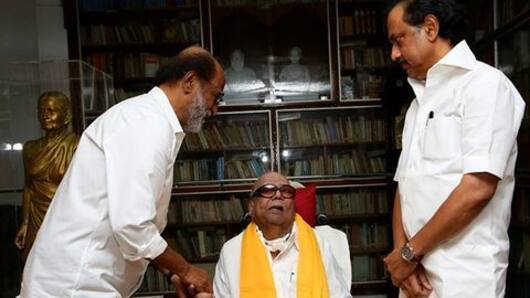 Days after announcing his entry into politics, actor Rajinikanth met DMK supremo M Karunanidhi. Incidentally, the Rajinikanth-DMK bonhomie goes back to 1996-1998 when the Tamil superstar had supported the party for Assembly and LS elections.
However, later DMK working president Stalin took a swipe at Rajinikanth's claims of pursuing "spiritual politics."
Why did Rajinikanth meet Karunanidhi? What does Stalin have to say? Read on!
In context
Why did Rajini meet DMK chief Karunanidhi?
Rajini's Politics
What is Rajinikanth's brand of politics?
Rajinikanth has announced that he will start his own political party before assembly elections. He aims to start a "political revolution" in TN.
He added that "future generations will live better if a change is facilitated now." His speech was peppered with Bhagavad Gita references.
To mobilize cadres and reach out to his fans, Rajinikanth has launched a mobile app, website and Twitter account.
"Courtesy call"
Rajinikanth seeks Karunanidhi's blessings
Rajinikanth, who has a "personal" relationship with Karunanidhi, called the latter the senior-most politician in the country. He described his meeting with Rajinikanth "a courtesy call."
Rubbishing claims of joining DMK, he said he had come to seek the DMK patriarch's blessings and inquire about his health.
Karunanidhi was apparently happy about Rajinikanth's political debut and "felt energized" after meeting him.
Love Politics news?
Stay updated with the latest happenings.
Notify Me
Stalin
Stalin: People have tried to destroy Dravidian movement but failed
However, after the visit, Stalin didn't mince words while targeting Rajinikanth's brand of "spiritual politics." Indirectly referring to BJP, Stalin slammed "some elements" for thinking that "this politics will destabilize Dravidian politics' stature."
He elaborated "This is the land of Periyar (idealogue EV Ramasamy), Anna (CN Annadurai), and Kalaignar (Karunanidhi.) There are many evidences of people trying to destroy the Dravidian movement and failing."
Rajini-wave
Is Stalin feeling the Rajini-heat?
Presently, Tamil politics is dealing with the aftermaths of Jayalalithaa's death and almost-retirement of nonagenarian Karunanidhi. It is experiencing a leadership vacuum. Superstars Rajinikanth and Kamal Haasan wish to exploit this vacuum.
In addition, BJP state chief has made Rajinikanth's political affiliation to the saffron brigade known. BJP is hopeful of riding into the state on the Rajini-wave. Is this giving Stalin goose-bumps?