Politics
JNU student Union President arrested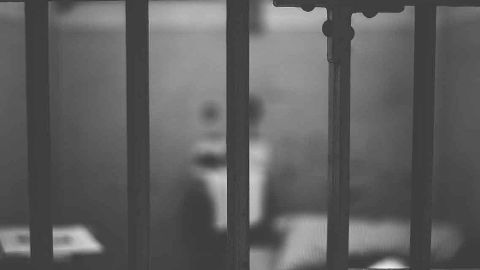 JNU students union president, Kanhaiya Kumar, was arrested on charges of sedition and criminal conspiracy for his role in organizing the protest, following complaints by ABVP members and BJP member Maheish Girri.
The Congress and left parties lashed out against the BJP, dubbing their actions 'emergency-like'.
The Hurriyat Conference defended the JNU protest as a 'peaceful protest' within the ambit of democracy.
In context:
JNU protests over Afzal Guru turn controversial
9 Feb 2016

ABVP alleges anti-Indian sentiments at JNU death penalty protest
JNU students led a protest against Afzal Guru's death penalty, hanged 3 years back for orchestrating the Indian Parliament attack in 2001.
The Akhil Bharatiya Vidyarthi Parishad (ABVP) alleged that anti-India slogans were called out during the protest amid cries for separating Kashmir.
The protest had been earlier called off by JNU's Vice-Chancellor, after the ABPV had complained against its 'anti-national' propaganda.
12 Feb 2016

JNU protest sparks massive outrage
A video of the protest, released by ABVP, where protestors were heard shouting anti-Indian slogans and calls to separate Kashmir, sparked massive outrage across the media and political parties.
Home Minister Rajnath Singh declared that the government would not allow such anti-national elements to prevail in educational institutions.
Ex-servicemen from JNU threatened to return their degrees unless action was taken against their alma mater.
Love Politics news?


Stay updated with the latest happenings.
12 Feb 2016

JNU student Union President arrested
14 Feb 2016

BJP faces wrath over JNU leader's arrest
Delhi CM Arvind Kejriwal accused PM Modi of using the police to 'terrorize' people and ordered a magisterial probe to investigate the legality of Kumar's arrest.
Teachers from 40 Central Universities and students of Film and Television Institute of India protested the sedition charges against Kumar.
Congress Vice President Rahul Gandhi accused the NDA of 'bullying' students by denying them their right to dissent.
15 Feb 2016

Attack at JNU leader's hearing; Rajnath Singh under fire
JNU student leader Kanhaiya Kumar's hearing at Patiala House turned violent when a mob, wearing lawyers' robes, attacked students and journalists assembled outside the court while shouting pro-India slogans.
Students alleged foul play by the Delhi police personnel, who had taken no measures to control the violence.
Meanwhile, Rajnath Singh faced heavy criticism for suggesting that the protesting students were linked to Hafiz Sayeed.
17 Feb 2016

Senior Delhi Police cops transferred over JNU row
14 senior Delhi Police officials were transferred in a major reshuffle, precipitated by the Delhi government's clash with the Delhi Police over the JNU row.
Cops who were transferred included Delhi Anti-Corruption Branch chief MK Meena, who was transferred to Andaman & Nicobar.
Deputy Commissioner of Police (South) Prem Nath, who is handling the Sunanda Pushkar death case, was transferred to Mizoram.
Love Politics news?


Stay updated with the latest happenings.
17 Feb 2016

At Patiala House, lawyers attack Kanhaiya Kumar, journalist
Arrested JNU student Kanhaiya Kumar was dragged, kicked and slapped by lawyers at Patiala House Court complex while being taken for his bail hearing.
The lawyers also attacked a journalist. The attacked journalist accused Delhi police of being "mute spectators".
The assault was said to be led by Vikram Chauhan, one of the attackers identified in the earlier beating of JNU students and teachers.
SC issues precautionary orders

Supreme Court on 17 Feb, regulated the entry of people to Patiala House courtroom where Kanhaiya Kumar was scheduled to be produced. It restricted entry of mediapersons to five inside the court room and no more than 25 journalists would enter the compound.
17 Feb 2016

Kanhaiya Kumar sent to 14-day judicial custody
JNUSU president Kanhaiya Kumar, was sent to 14 days of judicial custody in Tihar jail.
Taking note of the violence at Patiala court complex, the Supreme Court appointed a five-member team to assess the ground situation and report back to it.
The apex court also asked Delhi Police Commissioner Bassi to submit an explanation on his failure to ensure law and order.
18 Feb 2016

3 ABVP members resign over protest handling
Three ABVP members of the JNU unit resigned from their post over the "oppression of professors and attack on Kanhaiya Kumar".
ABVP Joint Secretary Pradeep Narwal, President Rahul Yadav and Secretary Ankit Hans resigned over ideological differences
The students stated that they have serious differences over the way the government was handling the JNU protests and their approach toward branding the left as anti-national.
18 Feb 2016

IB report identifies 9 students, faculty behind protests
The IB has prepared a list students of JNU and a guest faculty of the Ambedkar University for masterminding the JNU protests.
The main suspect Umar Khalid, a PhD student at JNU is still at large and is considered the most radicalized member of the Democratic Students' Union.
Banojyotsna Lahiri a lecturer at Ambedkar University allegedly conceptualized the parameters of the JNU event.