Lalu's complaint "Being treated like a common prisoner"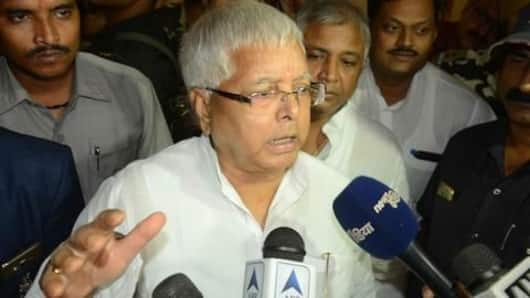 Many Indian politicians would be qualified for the "narcissistic" title. From Mayawati's statue obsession and Jayalalithaa's devi-like demeanor to NT Rama Rao's delusional theatrics, masses have witnessed interesting moments. However, RJD chief Lalu Prasad Yadav takes the cake.
Recently, in his inimitable style, he bantered with CBI special judge Shivpal Singh. He complained that he "was being treated like a common prisoner."
Here's more.
In context
What are Lalu's complaints in prison?
Why jailed?
First off, why is Lalu in prison?
Lalu is in prison for fraudulent withdrawal of Rs. 90L of taxpayers' money from the Deoghar district treasury when he was Bihar's CM. Last week, he was sentenced to 3.5yrs in prison.
Currently, he is lodged in Ranchi's Birsa Munda Central Jail.
He was now attending the proceedings of the Dumka treasury case.
Both the tnewcases are part of the infamous fodder scam.
Commoner
'I'm not allowed to meet party workers'
Despite being in prison, Lalu wasn't dejected. He used his gift of gab to entertain the court-room audience. Singh enquired if Lalu was facing any problems.
Lalu grumbled that authorities were not letting him meet his party members. Singh explained that visitors will be allowed as per the jail manual.
He reminded Lalu saying "Law is equal for all, including mass leaders."
Love Politics news?
Stay updated with the latest happenings.
Notify Me
Legal knowledge
Lalu also flaunted his legal knowledge
As Lalu sulked, Singh suggested that he should shift to the Hazaribagh open jail. There, he can "keep waving to his supporters."
Lalu invoked the rule-book. He said the open jail was for Naxals and above-60 convicts. He gloated that if party-workers were stopped in an open jail, there will be "genocide."
He added, Jharkand's entire police force will have to be deployed there.
'I can't eat dahi-chura for Makar Sankranti'
Further, with Makar Sankranti round the corner, Lalu lamented that he couldn't eat "dahi-chura" this time. Every year, Lalu celebrates the festival with great gusto, holding a great feast at his house. Mollifying him, Singh said he will have the dish prepared in jail itself.
Singh's rebuke
Singh pulls up Lalu for his foolhardy statements
Though Lalu continued to jest, Singh reprimanded him for his reckless comments.
Apparently, Lalu requested the judge to award him only 2.5yrs of jail in the Dumka case. To this, Singh remarked, "Why do you say this? Such statements shouldn't be made."
Interestingly, Singh has been strict with Lalu from the beginning. When Lalu sought exemption from personal appearance, his request was sternly declined.