Prakash Karat v/s Sitaram Yechury: CPI(M) against tie-up with Congress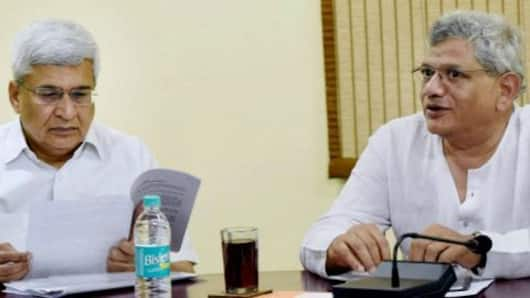 It seems the CPI(M) is headed for a major face-off between the factions of party chief Sitaram Yechury and his predecessor Prakash Karat. They will battle it out at the party's conclave in Hyderabad.
However, Karat's bloc won the latest clash. Their proposal of not aligning with the Congress for the upcoming elections has been accepted by the CPI(M) Central Committee.
Here's more.
In context
Why are Sitaram Yechury and Prakash Karat clashing?
At one time, Karat and Yechury were CPI(M)'s "young turks"
Karat and Yechury weren't always at loggerheads with each other. They had famously stopped Jyoti Basu, former WB CM, from becoming India's PM in 1996. Their unison was such that Basu, despite having senior leaders like EMS Namboodiripad's support, had to bow to their wishes.
Rivalry
However, soon, a united stand gave way to personal rivalry
However, the Left's Jai-Veeru have been locked in an intense cold war that is affecting the party.
The media-savvy Yechury openly taunts his comrades, which isn't the "left way."
He had spoken against former Kerala CM VS Achuthanandan's suspension from the Politburo in 2009.
He was also against aligning with AIADMK in Tamil Nadu and BSP in UP; Karat was flirting with both.
Love Politics news?
Stay updated with the latest happenings.
Notify Me
Current rift
What is the latest showdown all about?
Now, what is the latest showdown?
Karat-Yechury placed their drafts for 2019 LS elections before the committee. However, there was a nuanced difference. They both agree that the left's objective is to defeat the BJP, without a direct alliance with the Congress.
But, while Karat's draft specifies "no understanding or alliance with Congress," Yechury's draft says party should align to "pool all anti-BJP votes."
Winner
So, who won this round of sparring?
General secretary Yechury's formulation was rejected by a 55-31 vote. From the committee's 91 members and 10 special and permanent invitees, Yechury managed to get support of only a third of those who voted.
After his proposal was rejected, Yechury offered to resign but was asked to continue by the 15-member Politburo, CPI(M)'s highest decision-making body.
Significance
What does this mean for the CPI(M)?
This battle will now shift to the Party Congress, triennial national conclave, to be held in April. Yechury's three-year term as chief is also up for re-election. He will probably face Karat-backed Ramachandran Pillai.
Meanwhile, this has laid bare the CPI(M) split. Yechury's faction is reportedly backed by the party's WB unit and Tripura unit, while Karat is backed by the party's Kerala unit.