Politics
All future elections to be held on VVPATs: Election Commission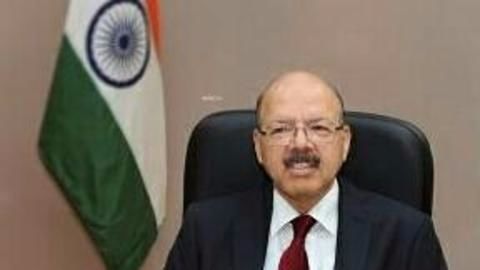 Following much controversy on alleged EVM tampering, the Election Commission declared on May 12 that all elections hereon will be conducted through Voter-Verified Paper Audit Trail.
"All future election will be held on VVPAT," announced Chief Election Commissioner Nasim Zaidi.
This came a couple of days after the AAP demonstrated on a similar machine how it could be rigged.
In context:
Usage of paper-trail EVMs in elections
Problems

Why EVMs are problematic?
Although EVMs were supposed to be the cure for booth-capturing during elections in India, they complicated the polling process.
Firstly, a small component of the machine could be replaced with a look-alike which could steal a percentage of votes in favour of a particular candidate.
Secondly, a pocket-sized device could change the votes stored in EVMs between the elections and the public counting process.
The origin of the VVPAT-EVM

In 2013, the Election Commission introduced the VVPAT-EVM in order to make the polling process more transparent and increase

voters

' confidence that their vote goes to the candidate of their choice without any errors.
Love Politics news?


Stay updated with the latest happenings.
VVPAT-EVM

What is a paper trail-based EVM?
Using the Voter Verified Paper Audit Trail (VVPAT) or the paper audit trail machine, a voter will be able to ensure that his/her vote goes to the candidate of his/her choice.
Upon casting a vote in the VVPAT-linked EVM, a paper slip visible to the voter is printed immediately showing the details of the voter's choice.
The slip is then preserved for later use.
SC recommends use of VVPAT-EVMs

In a Supreme Court ruling in 2013, the SC bench stated that, "confidence of the voters in the EVMs can be achieved only with the introduction of the 'paper trail'", and recommended that the Election Commission to use VVPAT-EVMs.
12 May 2017

All future elections to be held on VVPATs: Election Commission
13 May 2017

VVPAT decision taken after all-party meet
The decision to conduct elections on VVPATs came after an all-party meet on May 12.
However, many changed their earlier stance and demanded a combination of VVPATs and EVMs.
Parties also demanded increase in display time on VVPATs from the current seven seconds, and state funding of polls.
However, there was no consensus on EC's demand of disqualifying candidates charged with bribery.
Love Politics news?


Stay updated with the latest happenings.
Is EC's Hackathon still open?

CEC Nasim Zaidi said the poll panel will soon announce dates for an "open challenge" to prove EVMs could be rigged. However, after the all-party meeting, Delhi CM Arvind Kejriwal tweeted, "Sad that EC has backed out of hackathon."
19 May 2017

EVM tampering-EC to demonstrate working of EVMs on May 20
Amid several allegations of EVM tampering, the EC is going to demonstrate the working of the electronic voting machines and VVPATs on May 20 to prove their infallibility.
It will also announce the date for its hackathon, where political parties can try their hands at proving that EVMs can be rigged.
The open challenge is likely to be held later this month.