BJP ally Chandrababu Naidu declares "war" with BJP, after Budget'18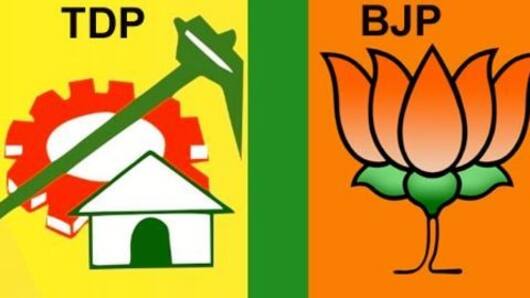 BJP's biggest ally in the south, CM Chandrababu Naidu's TDP expressed dissatisfaction that Andhra didn't figure in Budget 2018. They declared "war" and have even threatened to walk out of the alliance.
Since Naidu became CM, BJP-TDP ties have been on the rocks.
Now, Naidu has called an "emergency meeting" with party leaders on Sunday.
What could be the implications of this development?
In context
Will TDP break alliance with BJP over Budget-2018?
Problem
First things first, why is TDP upset?
Andhra has been dealing with financial crisis since the bifurcation. TDP lamented that there was no mention of the promised Vishakhapatnaam railway zone, allocations for the construction of the new capital Amaravati and the Polavaram multi-purpose irrigation project among other things in Budget 2018.
TDP said despite personal efforts by Naidu, who visited Delhi to apprise Centre of Andhra's problems, they were left empty-handed.
Relations
Has the TDP-BJP alliance always been choppy?
Earlier, TDP had ditched BJP in 2004. After that Naidu spent a decade in political wilderness.
In 2014, Naidu patched up with BJP and rode to power in Andhra on the Modi wave.
However, things started going downhill soon after.
Major hostility arises from TDP's demand for a "special category status," wherein Centre would bear 90% expense of schemes; Jaitley scoffed at this suggestion.
Love Politics news?
Stay updated with the latest happenings.
Notify Me
BJP
By upsetting TDP, does BJP have a bigger design?
Recently, Naidu also accused BJP state leaders of rallying against the government, without the central leadership pulling them up.
Separately, the opposition Jaganmohan Reddy-led YSR Congress extended an olive branch to the BJP. He agreed to an alliance if Andhra is granted special status.
Reportedly, YSR has been gaining popularity, while TDP faces corruption/maladministration allegations. So, is BJP thinking of a future alliance?
TDP
How will the TDP be affected?
For TDP, breaking the alliance might not work. Apart from facing flak in Andhra, it hasn't built a strong opposition to Telangana Rashtra Samithi (TRS) in Telangana.
Though Naidu has redeeming qualities like his vision for Andhra, he failed to secure funds for it.
But, TDP seems hell-bent on "charting its own course." It also stood against BJP on "triple talaq bill" in RS.