Yashwant Sinha: FinMin Jaitley didn't apply his mind to Budget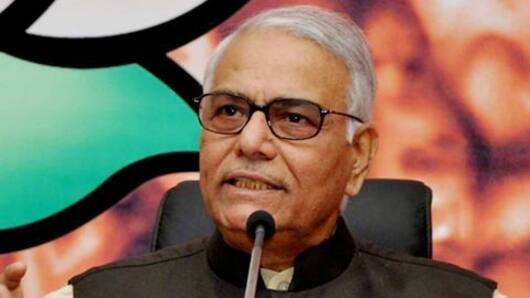 Is rebel BJP leader Yashwant Sinha testing BJP central leadership's patience? Considering his recent statements, it would seem so.
He has now slammed FM Arun Jaitley's Budget 2018 claiming that it was prepared without "application of mind." He also slammed government for allocating such little time for debate.
He further declared the formation of a "Rashtra Manch," a political-action group to criticize BJP's policies.
In context
How has BJP's Yashwant Sinha criticized the Budget?
Farmers
'Instead of improving, farmers' income has gone down'
Sinha also negated Centre's claims of the budget being "pro-farmer," as doubling farmers' income by 2022 seems to be a "distant reality."
As per him, there is data that proves that the income has declined by 1.38% since 2014.
About MSP provisions, he added that, "The definition of 'cost of production' is absent; so, it isn't clear what 1.5 times of cost of production means."
GST
'GST hasn't brought about any simplification of tax structure'
Sinha slammed the Goods and Services Tax (GST). He said, "Earlier central VAT had only three slabs: merit, mean and demerit. So many GST slabs defeats the purpose of a new simplified tax regime."
He was referring to the 0%, 5%, 12%, 18% and 28% slabs within GST.
Further, he questioned the logic of fixing GST on fertilizers at 12%, despite acute farmer distress.
Love Politics news?
Stay updated with the latest happenings.
Notify Me
Criticism
'Budget is just a jugglery of numbers'
The dissenting leader panned the PM Modi-led government for practising financial engineering.
Condemning the ambitious "Modicare," he said budget announced a number of health-care schemes which weren't properly thought-out.
Moreover, he criticized government for not following the FRBM (Fiscal Responsibility and Budgetary Management) Act. He was referring to Jaitley revising the fiscal deficit target for 2018-19 to 3.3%, against the earlier target of 3%.
Sinha's intentions
'Why should I quit BJP? Let them throw me out'
Sinha also announced his non-intention of quitting BJP. He said, "I had toiled hard during 2004-14 when the UPA was in power. Let the party throw me out if it wants."
The former finance minister said the present government's policies were not in line with the election manifesto. He said his Rashtra Manch will work to bring government back on track.