Rajasthan Budget: Raje offers farm-loan waiver up to Rs. 50,000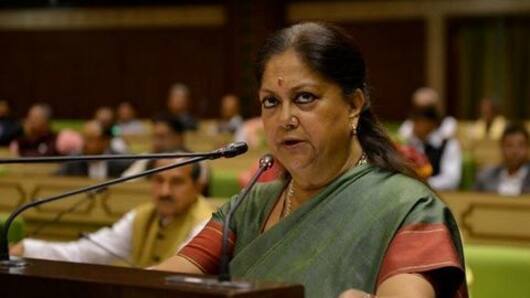 After the recent upset in the Rajasthan by-polls, CM Vasundhara Raje presented a "please-all" budget targeting farmers, youth, poor and women.
This was her last full budget, months ahead of the state assembly polls.
A major announcement was a one-time loan waiver of up to Rs. 50,000 for small/marginal farmers in the state, costing the state exchequer an additional Rs. 8,000cr.
Here's more about it.
In context
What does Rajasthan's government propose?
Loan waiver
What does this loan waiver entail?
Raje, who holds the finance portfolio, announced setting-up the farmer loan relief commission where farmers can approach and present their story for getting relief, on the basis of merit.
Once she announced this criterion, Opposition congress members created uproar in the House.
They said it was a betrayal to farmers, and the complete loan should be waived.
This announcement comes amid widespread farmers' distress.
Announcements
What were the other big announcements?
For the youth, Raje said that as many as 77,000 vacancies in education department will be filled and 2,000 new patwaris will be appointed. Further, she claimed that about 13L jobs were already created in the state.
Twenty-eight new public health care centres will be set up in the state.
Honorarium for Anganwadi workers will be increased, benefiting about 2L workers.
Love Politics news?
Stay updated with the latest happenings.
Notify Me
What does this budget imply?
Rajasthan's public appears disillusioned with the current government. Thus, Raje walked the extra mile despite fiscal constraints to pacify the public. She went back to the basics of 'Bijli, Sadak, Pani'. With Congress having upped its game, will the Budget do the trick for Raje?