BJP promises free Jerusalem-trips for Christians, if voted to power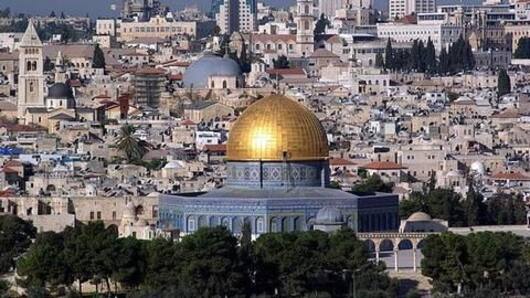 A month after the Modi government withdrew subsidies for Haj pilgrimages, the BJP is now offering Christians free pilgrimages to Jerusalem if elected to power in Nagaland.
It's unclear whether the BJP is extending this offer to all Indian Christians, or to Northeastern Christians, or to only Christians from Nagaland.
But here's what we know so far.
In context
North East elections: BJP tries to woo Christians
Details
Several sources have confirmed the promise made by the BJP
Northeastern news outlet WeTheNagas tweeted that the BJP had made an "election promise to send Christians to Jerusalem on a free trip" if elected to power in Nagaland.
Meanwhile, The Hindu also quoted Nagaland BJP spokesperson James Vizo saying that the BJP plans to "send groups of senior Christian citizens to Jerusalem" if it came to power.
Yet, what "Christian" here entails remains unclear.
AIMIM president Asaduddin Owaisi takes a swing at the BJP
'Jerusalem calling' in Nagaland https://t.co/yR0rEmlhi3 via @the_hindu BJP promise to send Christians on a free trip,I was right BJP continues with Subsidy if it suits its electoral needs this is " INDIA first"

— Asaduddin Owaisi (@asadowaisi) February 13, 2018
Love Politics news?
Stay updated with the latest happenings.
Notify Me
Reactions
The BJP's promise wasn't received kindly
The BJP's move has been slammed by many.
When removing the Haj subsidy, Minority Affairs Minister Mukhtar Abbas Naqvi had said that the funds would instead be used for "educating girls".
Now, with the Jerusalem pilgrimage offer, the BJP is facing vocal criticism from several quarters for hypocrisy and opportunism.
Even the Israeli press was a tad amused by the BJP's promise.
The Jerusalem Post expresses its amusement at the promise
"Campaign promises around the world are legendary, from 'a roast in every pot,' to 'I'll cut your taxes,' to 'vote for me, and I'll set you free' ," wrote The Jerusalem Post, commenting on the BJP's electoral promise.
Electoral politics
A blatant attempt by BJP to woo Northeastern Christians
With the Nagaland, Meghalaya, and Tripura elections coming up, the BJP, which is contesting the elections as an ally of the regional National Democratic Progressive Party, is looking to sweeten the deal for Christians.
Christians currently constitute around 75% of Meghalaya's population and 88% of Nagaland's population.
BJP's promise comes days after the Nagaland Baptist Church Council warned against the advent of Hindutva forces.