Politics
Narada: ED files cases against 12 senior Trinamool leaders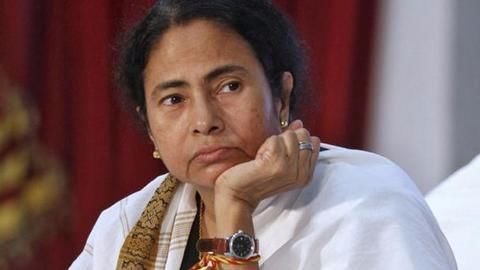 The ED has registered cases against 12 senior Trinamool Congress leaders for alleged money laundering in the Narada case.
The four cabinet members, six MPs and two MLAs will be brought in for questioning over the money they apparently received in the sting operation.
Arrest of these leaders, who form Trinamool's core group, can affect its political standing amid a rising saffron wave.
In context:
Narada News 'stings' Trinamool Congress
15 Mar 2016

Bribery sting enmeshes 11 Trinamool Congress ministers
11 Trinamool Congress members were embroiled in a sting operation that allegedly showed them accepting bribes in exchange for boons to a firm in Dubai.
The sting was carried out by Narada News which posed as a fictitious company - Impex Consultancy - and approached ministers, offering them bribes.
BJP demanded that CM Mamata Banerjee resign and take responsibility for corruption within her ranks.
15 Mar 2016

Trinamool dismisses the sting, calls it 'doctored'
The TMC dismissed the tapes as 'doctored' and fake.
They claimed that this was the work of 'dirty tricks departments' of its political rivals ahead of the upcoming elections in West Bengal.
TMC MP Derek O. Brien called the video a 'smear' campaign against the party and said that he would to sue the Narada News portal for defamation.
Love Politics news?


Stay updated with the latest happenings.
Mamata Banerjee on the sting operation

Mamata Banerjee, campaigning in north Bengal, made a fleeting reference to the accusations saying the opposition should "fight her politically instead of resorting to a conspiracy".
18 Jun 2016

Mamata Banerjee orders probe into sting operation
The inquiry into the Narada News sting will be executed by Kolkata Police, led by commissioner Rajeev Kumar.
Chief Minister Mamata Banerjee said, "I still believe that there was a conspiracy. We want the truth to come out.The police will conduct an impartial probe and the guilty will be punished".
Opposition considers this probe as an eyewash to fool people and destroy evidence.
24 Jun 2016

Calcutta HC asks Chandigarh CFSL to analyze Narada tapes
The Calcutta HC asked the Central Forensic Science Laboratory, Chandigarh to analyze the genuineness of Narada sting-operation tapes.
Earlier, Hyderabad CFSL failed to analyze the recordings that showed people bearing resemblance to TMC superiors taking money.
The special committee would hand over the devices/tapes and Hyderabad CFSL report's copy to Chandigarh CFSL in 10 days, which would submit its report in a month thereafter.
17 Apr 2017

Narada Sting: FIR against TMC leaders; Setback for Mamata Banerjee
The Central Bureau of Investigation registered FIR against 13 TMC Ministers and MPs, including Madan Mitra, Mukul Roy, Saugata Roy, in connection with the Narada sting operation case.
The FIR was registered a month after the Supreme Court gave an extension to the CBI to conduct the preliminary inquiry into the case.
The three-judge SC bench stated CBI's investigation would continue against the accused.
Love Politics news?


Stay updated with the latest happenings.
29 Apr 2017

Narada: ED files cases against 12 senior Trinamool leaders