Budget session: Opposition angry as Finance Bill passed without discussion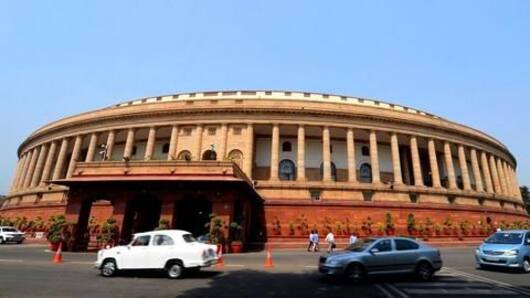 The Opposition parties continued their various protests for the seventh straight day of the Budget session, disrupting the proceedings of the house.
Due to this, the Finance Bill 2018-19 couldn't be taken up for discussion in Lok Sabha. Further, much to the annoyance of the Opposition, NDA members signed the bill and passed it.
Opposition also signed a letter accusing the government of "arrogance."
In context
How did the Budget session proceed today?
Proceedings
What happened in the LS today?
Question Hour and Zero Hour were washed out after members from the TDP, Congress, AIADMK, TRS, etc. trooped into the Well. Speaker Sumitra Mahajan had to adjourn the proceedings for an hour.
LS had scheduled discussions on Finance Bill 2018-19 and Appropriation Bills 2017-18 and 2018-19.
But, when the House reassembled at noon, protests continued and no official business could be taken up.
Protests
What was the Opposition protesting about?
There are a barrage of issues plaguing Parliament. Congress and Trinamool raised the PNB-scam issue.
TRS sought to increase reservation quota and AIADMK demanded setting up the Cauvery management board.
TDP and YRS Congress continued their "Special category status for Andhra" protest.
Notably, since the beginning of the second leg of the Budget session on March 5, LS has failed to transact any business.
Love Politics news?
Stay updated with the latest happenings.
Notify Me
In RS, Opposition insisted on PNB-scam discussion under voting rule
Despite Chairman Venkaiah Naidu's appeals to allow RS to function, proceedings were disrupted. Naidu said government was ready to discuss the issues being pushed by the Opposition. However, TMC, Congress and other Opposition parties demanded discussions under Rule 168/169, which requires voting on a resolution.
BJP
Meanwhile, BJP blamed Congress for the deadlock in Parliament
Parliamentary affairs minister Ananth Kumar insisted that the government is talking to different parties to break the deadlock. He, however, blamed Congress for the Parliament stalemate, saying the party continues to have contempt for democracy.
Referring to Congress's Sonia Gandhi's "dinner invite" for Opposition, Kumar said her "dinner politics" won't work as BJP under Modi remains a "winner."