BJP mismanaged Kashmir issue "like never before": Manmohan Singh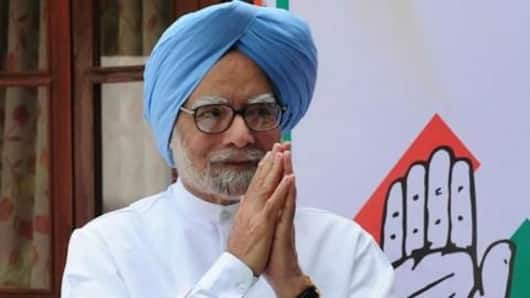 At the final day of the Congress' plenary session in New Delhi, senior party leaders launched blistering attacks on the ruling BJP, blaming it for mismanagement of the Kashmir issue "like never before," the "big lie" of demonetization and its "greatest disservice" to India: pushing people into poverty.
Being held after seven years, the theme of Congress' 84th plenary session is 'Change is Now.'
In context
Congress hits out at BJP during plenary session
Kashmir
'Atmosphere in J&K deteriorating every day, borders are insecure'
Speaking at the event, former PM Manmohan Singh said, "The atmosphere (in J&K) is deteriorating every day. Our borders are insecure, be it cross-border terror or internal."
He said India should send warnings to Pakistan, and our defense expenditure, "1.6% of the GDP," is "far too inadequate."
He also blamed Narendra Modi for not increasing farmers' income or employment opportunities for youths.
'Sonia Gandhi made Congress, Congress made India what it is'
"During UPA's 10 years, Soniaji's guidance was a great tower of strength to me. She has given our party a distinguished guidance which has enabled us to deal with pressing issues during the UPA period. I join all of you in saluting her," Singh said.
Love Politics news?
Stay updated with the latest happenings.
Notify Me
Economy
'Tirupati's hundi collectors will work faster than RBI'
Former Union Minister P Chidambaram criticized the BJP's economic performance, saying it inherited a "strong economy" which "started in 1990s when Rajiv Gandhi sowed seeds of liberalization."
But under BJP, "Number of people below poverty-line went up."
He also chided the RBI, which says it's still counting returned demonetized notes: "I would advise the RBI governor to get Tirupati's hundi collectors. They count faster."
Others slam BJP for ignoring regional connectivity, mismanaging international relations
Meanwhile, Gaurav Gogoi said BJP had turned Congress' rallying cry of "Neighborhood First" to "Neighborhood Last" by ignoring regional connectivity. "It's a matter of concern that we have mismanaged our relations with major world capitals, major strategic partners and our immediate neighborhood," Anand Sharma added.
Event
Rahul Gandhi to reveal Congress' plans for the next years
The plenary session will ratify Rahul Gandhi's election as Congress president which took place in December'17.
Thereafter, he's expected to reveal future plans for the Congress and decide on reconstitution of the Congress Working Committee.
The event is expected to re-energize party workers, said a leader familiar with the developments, especially when the BJP is reeling from key bypoll defeats and loss of allies.