Politics
PM supports Raje over Lalit Modi controversy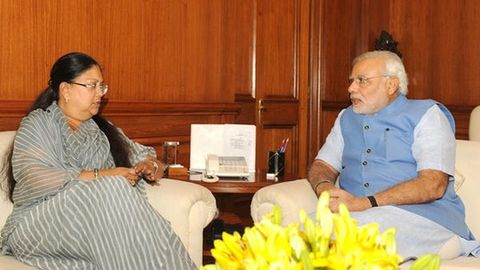 After a meeting between Amit Shah and PM Modi, BJP has come out in support of Sushma Swaraj and Vasundhara Raje over their alleged connection and help given to Lalit Modi.
The party said that charges against Raje's son, Dushyant, were planted by Congress.
BJP also ruled out opposition's demand for Raje's resignation.
The party has instructed all members to support the leaders.
In context:
Vasundhara Raje's Lalit Modi connection
4 Mar 2011

Lalit Modi's passport revoked
Lalit Modi's passport had been revoked by the Mumbai Regional Passport Office.
He had a month's time to appeal against the decision, which could bring him back to India from UK.
A blue corner notice had already been issued against Modi by the Enforcement Directorate (ED).
The alert mandated the law-enforcement agencies around the world to detain him and inform the ED.
Why is Lalit Modi in trouble?

The former IPL commissioner was sacked from the league on charges of financial irregularities and money laundering. In May 2010, he went to London on the pretext of an underworld threat in India.
Love Politics news?


Stay updated with the latest happenings.
17 Jun 2015

Raje supported my immigration plea: Lalit Modi
Lalit Modi claimed that Rajasthan CM Vasundhara Raje had supported his immigration plea in writing in Britain.
He also claimed that Sushma Swaraj was a family friend.
His comments came hours after it came to light that Raje had given a "Witness Statement" in August 2011 to British authorities. She gave this to support Modi's immigration case in Britain.
17 Jun 2015

Modi put Rs. 11.63 crore in Raje's son's company
According to the Enforcement Directorate, a firm run by Vasundhara Raje's son, Dushyant Singh who is a BJP MP from Jhalawar-Baran, got Rs 11.63 crore from Lalit Modi.
The payment to the firm was made in April 2008 by a loan of Rs 3.80 crore and later by buying 815 shares.
These shares of Rs 10 were bought at a premium of Rs 96,180.
17 Jun 2015

Raje calls Amit Shah to explain her position
Raje told Amit Shah that she had family ties with Lalit Modi but there weren't any wrongdoings on her part.
She said that the documents being circulated in the media were fake.
BJP, meanwhile, was not assuring Raje of full party support until all the facts were ascertained.
The party directed her not to speak on this issue to the media.
The Royal Vasundhara Raje

Vasundara Raje belongs to the royal Scindia Maratha family. She is the first women Chief Minister of Rajasthan.
Love Politics news?


Stay updated with the latest happenings.
21 Jun 2015

PM supports Raje over Lalit Modi controversy