Politics of color: Ambedkar's saffron statue re-painted blue in UP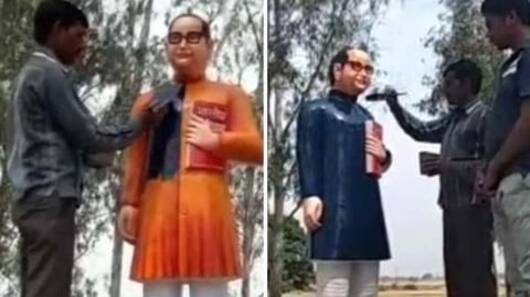 A 5-feet tall statue of Dalit icon Dr. Bhim Rao Ambedkar, which was rebuilt and painted saffron in Uttar Pradesh's Badaun district, was repainted blue on Tuesday.
A 3-feet tall statue of Ambedkar was earlier vandalized in Badaun's Kuwargaav village on April 7 by some anti-social elements. However, it was replaced with a new 5-feet saffron colored statue on April 9.
Here's more.
In context
Ambedkar's saffron-painted statue gets a blue makeover again
Height
Ambedkar's previous statue was barely 3-feet high
Sub Divisional Magistrate (Sadar) Parasnath Maurya said, "Babasaheb's previous statue, shortlisted by a committee of police and district administration, was barely 3-feet high. Later, a saffron statue was selected, costing Rs. 22,000."
Speaking of statue's saffron hue, SDM said, "Committee members had brought blue paint along, but the statue was installed before giving it a blue coat. Today, the statue has been repainted blue."
Previous episodes
Boundary wall of Haj Committee office painted saffron
The incident, which was reminiscent of an earlier episode where the state Haj Committee office boundary wall was painted saffron and then repainted white, prompted opposition parties to take pot-shots at the ruling BJP, which has often been accused of "saffronization".
According to a SP leader, the state has been draped in saffron color ever since the Yogi-led BJP government came to power.
Love Politics news?
Stay updated with the latest happenings.
Notify Me
Saffronization
BJP forced Ambedkar to leave Hinduism and adopt Buddhism
"It was the BJP people who had forced Babasaheb to leave Hinduism and embrace Buddhism. Today these people are enacting a drama of adopting Babasaheb," SP leader and MP Dharmendra Yadav said.
"Till today, Babasaheb's statue used to be either blue or white...these people gave a saffron color to the statue and made an effort to damage the dignity of Babasaheb," he added.
Color politics
Babasaheb's dress was saffron when he embraced Buddhism
Meanwhile, BSP's Hemendra Gautam said the first priority was to install the statue, so they didn't bother about the color.
He said after the statue's installation, they filed an appeal that it should be blue.
However, he added, "When Babasaheb embraced Buddhism his dress was of saffron color."
However, others like Kalicharan, head of Ambedkar Suraksha Samiti, were not ready to accept saffron color.
FIR
Kalicharan filed complaint against person who allegedly damaged Ambedkar's statute
It was on Kalicharan's complaint that a case was registered against a person for allegedly damaging Ambedkar's statue.
Reportedly, a constable was also suspended in this regard. On April 7, the statue at Ambedkar Park in Kuwargaav was found damaged.
Superintendent of Police Kamal Kishore said police had covered the vandalized statue with cloth and initiated a probe into the incident.