Karnataka: All you need to know about tomorrow's floor test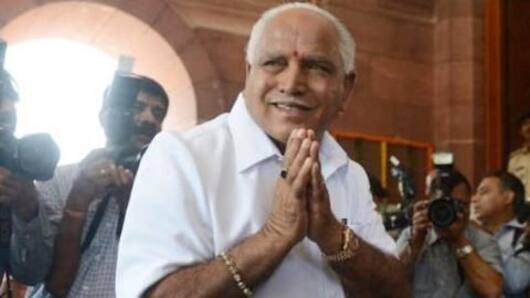 Whether BS Yeddyurappa will remain the CM of Karnataka or his dreams will be shattered, will be known after the crucial floor test tomorrow.
The Supreme Court ordered the newly-sworn in CM to prove majority in the House, on Saturday, an exercise BJP and Yeddyurappa claimed was easy.
Congress and JD(S), on the other hand, are confident of BJP's defeat.
Here's how floor test works.
In context
Will Yeddyurappa be the CM for 2 days?
A guide
What is a floor test: All your questions answered
A floor test means the Chief Minister has to prove he has required the number of MLAs to form the government.
This transparent exercise is better than Governor deciding behind closed doors which political party should be allowed to run the state.
In this case, BJP won 104 seats out of the 222 in Karnataka elections. Polling was not held in 2 seats.
Every vote counts
Why it'll be better for BJP if MLAs are absent
The floor test, however, comes with its own flaws. An elected leader can choose not to cast vote in the test, or stay absent altogether.
If this happens, the majority is counted based on those who were present and voted.
This is one possibility BJP might be banking on, as absentee and non-voting MLAs will automatically bring down the majority.
Love Politics news?
Stay updated with the latest happenings.
Notify Me
Details
Pro-tem Speaker asked to carry out floor test
In its order, the apex court directed a pro-tem speaker to decide how the floor test will happen- through voice-vote or ballot.
A pro-tem speaker is a temporary speaker tasked with the oath of office and secrecy to the newly-elected MLAs.
In this case, since SC ruled out secret ballot box test, voice votes may be cast.
Details
Vajubhai Vala appoints BJP-MLA and Yeddyurappa ally as pro-tem speaker
The speculations suggested 71-year-old Congress leader RV Deshpande will be appointed the pro-tem speaker since he is the senior most leader.
But, Karnataka Governor Vajubhai Vala gave 5 term MLA BJP's KG Bopaiah the position.
Notably, Bopaiah is an ally of Yeddyurappa. In 2010, he had disqualified 11 rebel BJP MLAs and 5 independents, who questioned BSY's leadership after illegal mining scheme.
It has started
Before the test tomorrow, expect a lot of mud-slinging
All that is happening in Karnataka since past few days leads to the floor test tomorrow. Congress and JD(S) are trying all they can to keep their flock together.
The elected leaders were sequestered at Eagleton Resort in Bengaluru earlier, and have now been shifted to Hyderabad.
A short while ago, Ghulam Nabi Azad alleged Congress MLA Anand Singh was held 'captive' by the Centre.