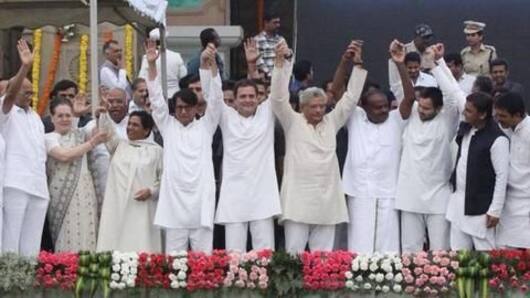 United Opposition in Karnataka, a signal for 2019 Lok Sabha?
After an intense fist fight between the BJP and the Congress-JD(S) coalition to assume power in Karnataka, HD Kumaraswamy swore-in as the CM yesterday. The ceremony, however, was out-shined by the stellar show of strength from the opposition parties.
Mamata Banerjee, Akhilesh Yadav, Chandrababu Naidu, and Sharad Pawar set the stage blazing with signals of what lies ahead of the 2019 Lok Sabha elections.
Jo hamse takrayega, chur chur ho jayega: Mamata
"Jo hamse takrayega, chur chur ho jayega (Whoever dares to fight with us will be decimated)," Mamata Banerjee said. She insisted that the swearing-in was an important democratic event, which gave an opportunity to unify regional parties.
Love Politics news?
Stay updated with the latest happenings.
Yes, notify Me
Happy to see Kumaraswamy become the CM: Naidu
The dissident former ally of the BJP, Chandrababu Naidu said he was "happy" to see regional leader Kumaraswamy become the chief minister.
Naidu said, "We are expressing our solidarity, and also in future we will work together to protect ourselves and to promote nation, that's our agenda." He had quit the NDA in March saying BJP means 'Break Janata Promise'.
Is Opposition forming a front against Narendra Modi?
When Naidu was asked whether presence of all major parties was a message to PM Modi, he said, "We want to promote more regional parties. We want to strengthen [them]. That is Mamata ji and our party's mission and that is how we are working."
Evident opposition against Modi in 2019
A united opposition hasn't favored the BJP in Bihar. Now, Congress usurping BJP in Karnataka is a big boost for Modi's opponents.
But whether the misaligned goals of the regional parties can prevent them from falling apart or not, is significant.
Modi critic, Yashwant Sinha feels the "Karnataka (loss)...has encouraged [the BJP's] opposition to try and come together, whatever the cost [may be]."
In how many UG courses can you apply in DU?
Asked 2018-05-24 12:34:02 by Mahesh Giri
Answered by NewsBytes
You may select all programmes/courses of your interest through a single online registration form in Delhi University. It is important to note that you can apply in all merit-based as well as entrance based courses through the same online application.