Mukhtar Abbas Naqvi: Minorities in India are the safest worldwide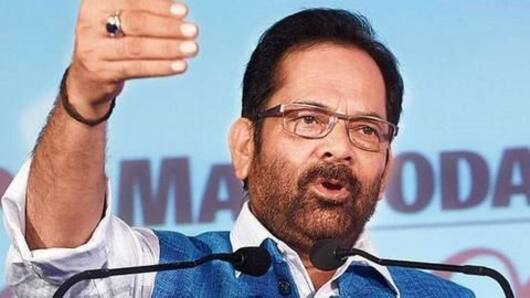 Union Minister for Minority Affairs, Mukhtar Abbas Naqvi, while speaking at the BJP's 'Transforming India' initiative in Goa, said that minorities in India are safer here than in any other democratic country.
Naqvi also answered several questions on the 'anti-Modi front', the NDA government's development agendas, the upcoming 2019 general elections, and more.
Here are the details.
In context
Mukhtar Naqvi speaks on minorities, and 2019 elections
Here's what Naqvi had to say about minorities
"Minorities and their socio-economic, educational and religious rights are safer in India than any other democratic country. Unfortunately some forces, especially political, are trying to create an atmosphere of fear to disturb the development, peace and prosperity," said Naqvi.
Minorities in India
Naqvi explains why he feels minorities are safe under BJP
Naqvi explained that isolated incidents apart, there had been no major communal unrest under the NDA rule.
The guilty in the isolated cases had also been dealt with, said Naqvi, adding that the BJP's concern for minorities "is not related to vote bank".
He added that the Centre had distributed minority scholarships worth Rs. 2.66cr, and created 5.43 lakh jobs for them.
Love Politics news?
Stay updated with the latest happenings.
Notify Me
Anti-Modi front
Naqvi's take on the anti-Modi front
Speaking on the "anti-Modi front", Naqvi said that there are over two dozen candidates looking to replace Modi, and would fight amongst themselves.
Additionally, he said that the Modi government's "biggest fight" is for "development with dignity" whereas the political alternative offered by the anti-Modi "anarchist alliance" is "corruption, contradiction, and confusion".
He added that he is confident of the people voting for BJP.
Naqvi confident of the people's mandate in 2019
"Our leader is Narendra Modi and under his leadership we would fight the 2019 elections to seek votes from people of the country. I am confident that people are in favor of development, and are against an anarchist alliance," asserted Naqvi.
2019 elections
No room for communal issues in 2019 election campaign
Speaking on the 2019 General Elections, Naqvi said that the BJP's only agenda would be "development, development, and development", and that there would be no room for communally sensitive issues like Hindutva and the construction of the Ram temple in Ayodhya.
Answering a question on the NDA's tie-ups, Naqvi said that the BJP is "honest to its alliance and committed to it" for 2019.